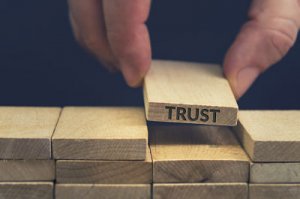 If there is a cardinal sin of marketing, it's ignoring the people who already know you, appreciate you and give you money. For most organizations, 60-75% of your net new revenue should come from your existing customer base.
Despite that metric, most businesses spend the majority of their marketing dollars and efforts chasing after new clients and invest very little in wooing the customers they have already earned. You've already cleared the highest hurdle – earning their trust. And yet, we often walk right past them on our way to talk to strangers.
One of the biggest values of marketing to your current clients is that they're the ones who are most likely to tell others about you. It's logical to think that the more they know about you, the more they can share with someone else who might be in the market for what you sell.
Another lost opportunity, if you don't actively connect with your customers, is that they develop a narrowed view of who you are and what you do. Odds are good that even your best clients don't utilize every product or service you offer. If you don't keep reminding them of all of the other ways you can help them – they begin to pigeonhole you as the "fill in the blank" company that is purely defined by what they currently buy.
We've certainly had that happen at MMG. If we developed a brand and the support materials (logo, tagline, etc.) for a client, they begin to see us as a brand shop. If we don't keep talking about other aspects of marketing strategy and execution, we can quickly be JUST a brand shop.
In all of our work with financial institutions, we knew that if someone had 3+ accounts or 4+ ACH/direct deposits going in and out of their checking account, they were far less likely to change institutions. The marketing expression for this reality is "setting more hooks" and it's as true for your business as it is for a bank or credit union.
Of course, the trick is how do you introduce yourself to someone who already knows you? Marketing to your existing customer base is all about demonstrating that you recognize who they are and what matters to them. There's no need to focus on helping them get to know you or trust you. You're already there. It's looking for ways to enhance what you already do for them.
Make a list of the customers who make up the top tier of your sales. Ask yourself these questions:
What could we do (not sell) to make their experience with us something they couldn't help but talk about?
What product or service would significantly enhance the effectiveness/usefulness of what they already buy from us?
How can we bring that to them immediately, either through something else we offer or from a strategic partner?
How do we genuinely demonstrate that we appreciate their loyalty and business?
Who, from my figurative Rolodex, needs to know about this person/company and how can I make those referrals?
Have we invited this client to provide a testimonial, case study or to leave us a review?
How can we institutionalize these kinds of requests so we get them from all of our best, happiest customers?
What else do they need that we don't currently provide that we could develop and deliver with excellence?
If you want to set more hooks and bring even more value to your best clients, you'll need to spend some time finding the answers to these questions and then be ready to invest some time, talent and budget to bring those strategies to life.