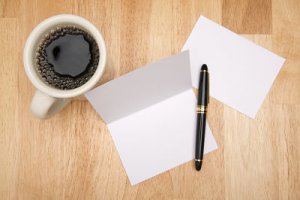 In this era of all things digital, I thought it would be a nice change of pace to go old school and talk about some very simple marketing tactics that are often undervalued and underutilized. Best of all, neither of these ideas will dent your marketing budget.
Thank you notes: When I was growing up, my mom was a stickler for thank notes. On December 26th there would be a stack of thank you cards and a list of recipients on the kitchen table. The importance of that act has stuck with me my entire life, and I still write a ton of thank you notes.
Most of us don't get a lot of traditional mail anymore, and when we do, we sort it over the wastebasket because there's not a lot of value in what we receive. So we notice personal mail, and we remember who sent it to us.
When a client places a new order or makes a referral, don't just shoot them a quick email. When a prospect makes time to learn about your business, be memorable. Their inbox is already bloated. Take five minutes and do what most people don't do — write a thank you note.
Tech twist: When I'm on the road I don't want to carry a bunch of thank you notes in my suitcase, so I use an app called Bond Black. It allows me to send a handwritten thank you note with my actual signature from anywhere in the world without trying to track down stamps or cards.
Make connections: We all have people in our lives that seem to know everyone and can quickly make valuable introductions that create new partnerships, client relationships, and peer connections. You need to be one of those people.
The good news is that you don't need to know a certain number of people or have a certain level of influence. All you have to do is be intentional. The Zig Ziglar quote, "You can have everything in life you want if you will just help other people get what they want" is spot on. What Zig didn't say but I think is implied is that your desire to help them get what they want has to be genuine. You can't fake it just so they're helpful to you in return.
Here's a great way to start. Make a list of ten people who genuinely have helped your business. Now, think of someone you know that would benefit them in some way. They might be a potential client or vendor. Or they might serve the same customer base but in a non-competitive way and there could be the possibility of them partnering together on a promotion or joint offering. Make an introduction, explaining why you think they should get to know each other. It's that simple.
Tech twist: Use Linkedin as your connection hub. Leave recommendations for people who have been influential in helping your business. Go a step beyond that and send a message to two people you want to connect and make an introduction. They'll be able to meet each other and make a LinkedIn connection, which opens their networks to each other.
While both of these tactics may seem rudimentary, we don't do either often enough.
Selfishly, they pay huge dividends. But even more important than that – they remind us to be the kind of business leader we should all aspire to be. Giving, gracious and grateful. I know those are the kinds of business people who have helped me learn, grow and build my business for the past 25+ years and I want to return the favor.