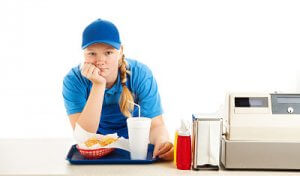 I live out in a newer suburb. I say "out" because bits of civilization have not reached us yet. There's no movie theatre or Target (hopefully both are coming soon), and there's no Panera. For my family, this almost put our location out of the running when we were ready to move.
On occasion, I'll make the run into a closer suburb for everyone's favorite Panera breakfast items. Round trip, including order time, is 45 minutes. So imagine my irritation when I got home a couple of weeks ago to discover that all the egg and cheese sandwiches were missing a key ingredient – the eggs.
Here's the truth for all of us. No matter how hard we try – we're going to disappoint a customer. It's inevitable. The good news is that depending on how we respond to the mistake, we can either deepen the relationship or lose the client.
Re-earning a customer's loyalty doesn't happen by accident. You need to anticipate where you might underperform and then you need to create standardized responses. But, that's not enough. You need to train your people on the responses but even more than that – they must have a customer-centric point of view. When confronted with the problem, whatever it may be, they need to care enough to want to resolve it. If that's not the case, no protocol is going to save the situation.
On that Sunday, I picked up the phone and asked for the manager. After waiting for about 13 minutes, Adam, the manager on duty, came on the line and I explained the situation.
Fix opportunity #1: Apologize. Actually, use the words "I'm sorry." Adam never apologized or even acknowledged that they made a mistake, inconvenienced us or ruined breakfast. In fact, Adam made it pretty clear that they were busy and he didn't have a lot of time for this conversation.
Fix opportunity #2: Ask how you can re-earn the customer's trust. Adam said they'd be happy to make new sandwiches if I wanted to come back to the store. When I explained the distance, he said that was his only option. If you don't know — Panera delivers. But my suburb was too far away. Not too far away for me to drive back, but too far away for him to send someone out.
Fix opportunity #3: Have processes and procedures in place for the most common issues. I'm sure this was not their first faulty order. Being able to credit the customer seems like a simple choice. But after I said I did not want to drive all the way back, there was silence. I was expecting him to offer up some alternatives, but he didn't. Finally, I started problem-solving for him and came up with options.
Me: Can you just put a refund on my credit card?
Adam: No. Our machines aren't set up to do that.
Me: Can you mail me a gift card for the amount?
Adam: No. I can't do that.
Me: Well Adam, what can you do?
Adam: If you want to write my name on the receipt, we'll give you free sandwiches the next time you come in.
I did not. Instead, I wrote his name on several review sites.
Fix opportunity #4: Remember the power of the consumer. 84% of consumers trust online reviews as much as their friends. If an establishment has less than 4 stars, the average consumer eliminates them as an option.
At the end of the day, we had plenty of food in the house, and no one went hungry. Was it a big deal? Not particularly. But Adam's disregard made it a big deal. This isn't just a problem for Panera. Mistakes are inevitable. You can afford those. But, you can't afford to have employees who don't care.