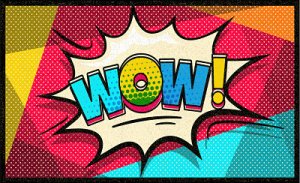 According to a study from the Chief Marketing Officer (CMO) Council, brand managers and chief marketing officers admit they're worried that their jobs are at risk because they aren't knocking it out of the park when it comes to customer service – they're not wowing customers. And I think they're right. It's just that important.
The CMO Council report, titled "The State of Engagement: Bridging the Customer Journey Across Every Last Mile," discovered that among the businesses they surveyed, they will determine the success of customer experience initiatives on bottom-line improvements like overall revenue growth and increases in individual sales. But as you might guess, most of them aren't able to tie customer experiences back to their company's business goals in real time. (Only 10% said they could) In fact, most of the surveyed said they usually could not tie their efforts back to the bottom line at all, no matter how much time they have to connect the dots.
The respondents also didn't give themselves high marks when it comes to delivering on the customer expectation of personalization and contextual engagements across the customer journey. They often get stymied by technology fails, disconnects between departments or siloed systems or the inability to influence the customer experience across all touchpoints.
In terms of the struggle to use technology to get insight into the sentiment of the customer at the moment of interaction, we see this with our clients as well. Technology doesn't support information needs, especially in real time. But I think it's dangerous to only point your finger at the lack of a streamlined system that captures everything in real time. With some ingenuity, you can still find a way to get the data you need. Handwrite key warranty card data if you have to. It's too easy to say we can't measure something when really what we're saying is we can't do it without effort or time. We may have to compromise on the real-time aspect, which is less than ideal, but saying we can't find a way to measure the experiences we're creating for customers is lazy. We just can't afford to blame technology and disregard the challenge.
Some of the other findings from the report that are worth noting are:
Marketers believe they need systems that use real-time data to deliver relevant, contextual experiences and they ranked this as their top priority and a requirement for being able to deliver customer experience success.
Their second most vital requirement is an organization-wide single view of the customer to ensure uniform and consistent engagement.
I don't disagree with either need, but I would add one and make it the first priority. If everyone in the organization isn't focused and dedicated to creating remarkable experiences, technology isn't going to bridge that gap. Then, technology is just a convenient scapegoat.
Absolutely it would be ideal to have a real-time, single view of your customer's entire journey from the first moment of discovery through repeat purchase but the truth is, most small and mid-sized businesses may never have access to that level of insight. But every business, regardless of size or industry, can have the mindset that crafting an amazing customer experience is critical to long-term success.
We live in a business environment when our customers, through ratings, reviews, social media posts, and influencer marketing, can sink us. They can also catapult us to success. I don't disagree at all with the CMOs take on the importance of really owning and perfecting the customer experience. It will ultimately make or break our businesses.
When you think about how vulnerable we are to the whims and whispers of our customers, it can be a little scary. But it's also our reality.