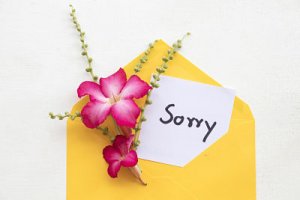 There's an interesting trend that speaks to a significant change in how brands are evaluated and how quickly they can go from hero to goat. I want to explore the origins of the trend and next time we'll look at some examples and best practices in response to this new normal and the best way to say "we're sorry".
Three factors created the trend that I'm calling the "mea culpa" trend.
The 24/7 exposure to news, not only from official news sources but also from our social media connections
The transparency that consumers expect from brands
The influence of being a good corporate citizen on purchase behavior
Remember when you were a kid and you had to wait until five or six o'clock in the evening to find out what happened that day? And if it was a really big story, the newspaper would write about it the next day or vice versa – you'd read about it in the paper that morning and then see it again during the evening news.
Either way, if you didn't read the paper or watch the news, you might never know what happened. Sure, a few happenings were such a big deal that it was water cooler conversation at work. But we were not subjected to the same news multiple times a day like we are today thanks to social media and our 24/7 news cycle.
Not only is the news being distributed by new outlets but pretty much by every Tom, Dick, and Harry in our Facebook, Twitter and LinkedIn feeds, not to mention the private forums, chat groups, etc. that we all belong to today.
That constant information flow has made it much more difficult for brands, their leaders and employees to hide any transgressions. Whether a company experiences a gaffe or is actually caught intentionally making decisions that feel or are unethical, we know about it immediately, and we fully expect them to explain themselves. Consumers no longer accept or tolerate the idea that not everything is their business or that organizations have a right to conduct business how they choose and it's not our place to express an opinion about it.
In fact, not only do we demand transparency and the right to the details, we sit in judgment of those organizations and their choices. We express that opinion by broadcasting and discussing their behavior, and we either show up in droves, or we boycott their products or services. Remember the Chick Fil A hubbub? If you supported the CEO's stand to support anti-LGBTQ causes financially, you stood in line to buy a chicken sandwich, not only because you were hungry but because you were voting with your dollars. If you disagreed with his stance, you haven't been to a Chick Fil A since it became public.
Consumers are much more likely to express their support or displeasure with their wallet than ever before. The #GrabYourWallet movement that erupted after some of the then-presidential candidate Donald Trump's comments targeted Ivanka Trump's brand, and as boycotts erupted, sales plummeted and stores stepped away from her brand. All of that triggered a 32% decline in sales.
The concept of the apology campaign is not new. After the big oil spill, BP launched a media campaign. Toyota did the same thing after their recall in 2010. But they were few and far between. The confluence of the 24/7 news access, the consumer's expectation of transparency and the quick to judge reaction to businesses who don't behave in a way they deem acceptable means we will see more of these apology campaigns.