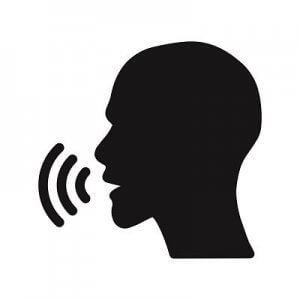 Voice is one of the most significant trends we marketers have had to face in a while. Remember when the proliferation of mobile devices changed the way we designed and built websites? Voice is going cause the same upheaval and it's going to come even faster and be more wide-sweeping than mobile ever was.
If the last decade was our mobile marketing revolution, then the upcoming decade is the era of voice.
The mobile revolution made it possible for brands to reach their audiences wherever they were, gather all kinds of data and then use that data to create near or real-time interactive experiences that felt personalized and intuitive.
That's nothing compared to what voice is going to do to our daily lives. We talk about the proliferation of smart speakers like Amazon Echo, Google Hoe, and Apple's HomePod but we forget we've been carrying a voice assistant in our pocket for years.
Almost 80 percent of Americans own a smartphone, where virtual assistants are included by default. Combine that with the fact that over 55% of American homes have a smart speaker and it's easy to see how voice is going to influence marketing channels and choices.
Voice is expected to drive half of all searches on mobile, and it's already having a huge impact on retail. Research done by NPD Group, Inc., found that online spending by consumers rose overall after the purchase of an Echo in every category except for travel. We haven't seen the results of the relatively new partnership between Google and Walmart that will allow customers to "voice shop" via Google Assistant but you know it isn't going to be minuscule.
We aren't and won't be limited to smart speakers or our phones. Soon we'll all be chatting with our fridges, washers and dryers, our cars, and even our toilets.
Voice assistants of all shapes and sizes are going to have us thinking differently as marketers. Here are some of the more significant ways we're going to need to re-think marketing:
The featured snippet: When we type our search query, the search engines serve up a list, and we choose the specific link we want to click on. But with voice search, it's what is called a direct answer. The device answers your voice search with a voice response of one answer. If you're asking Google, it's going to serve up the featured snippet. The growth of voice search means that being on page one is no longer the holy grail that it was. The new goal is to be the featured snippet.
A whole new channel – Alexa skills and flash briefings: Brands are creating Alexa skills (because right now the Echo is the dominant leader) to interact with their consumers. Take a look at Purina's Ask Purina Alexa skill that lets dog owners ask Alexa questions about their pets. This sets Purina up to be the authority in a very profitable and popular space on a broad spectrum of dog-related information. Not only are they helpful but the interaction builds trust and mindshare.
The biggest one? Writing for conversational search as opposed to keyword search. It shifts our focus to natural language and the intended meaning behind the searcher's specific query. When we're speaking out loud, we tend to use more words and longer sentences than we do when we type a query. Marketers need to think about how someone would ask the question that should serve up your answer. Those full sentences need to be added to your keyword list.
This is a fast-moving trend so find some sources to keep you informed. While you're doing that, you should start experimenting with a refreshed search strategy, some Alexa skills and trying to become a featured snippet.