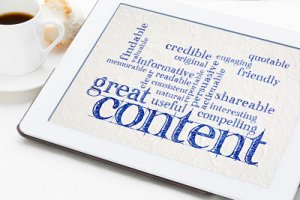 Most businesses have accepted or even embraced the idea that without creating content, your website can't hope to compete for search engine rankings, high visitor counts, or much engagement. There are just too many sites out there fighting for the same eyeballs that you want.
If you don't put something appealing and fresh in front of them, you're going to be out of luck.
BuzzSumo did a study of over 100 million posts and came up with some very revealing data. I thought we'd take a look at a couple of the more interesting insights and diagnose what they might mean for how we should shape our content strategy.
Data point #1: Social sharing of content has been cut in half since 2015.
I believe many brands stopped sharing their content because they weren't getting much engagement. While everyone is hungry for likes, comments, and shares, keep in mind that only a fraction of material is going to be unique enough to earn that level of activity.
We need to remember that over 85% of all social shares are done on the "dark web." That's not as sinister as it sounds. It just means that most of us share content person to person, in private messages or text messages as opposed to on our public newsfeeds, etc. When you're calculating the engagement level of your efforts, don't forget to create a metric or multiplier to factor in that reality.
If you aren't consistently sharing your content, you need to ask yourself why. I'm going to guess that one of three things might be happening:
The content isn't worthy of the time it would take to share regularly
You haven't structured your department, workload, or day to include time to do the work of sharing
You haven't leveraged the technology and tools available to make your sharing easier and more consistent
You would be better off producing less content if that meant it was of a higher quality and you were more motivated to share it. Content without distribution is a little like putting on a fancy dress to watch TV at home alone. No one is going to know, so why bother?
Data Point #2: There has been a growth in content sharing on LinkedIn, and many publishers are seeing steady increases in content engagement on the platform albeit from a relatively small base.
Two facts of note in that sentence. People are sharing more content on LinkedIn, and they are getting more engagement. The very thing everyone is looking for when it comes to defining value for their efforts.
I think LinkedIn is probably one of the most under-used social channels out there. Yes, odds are your "fan base" is smaller there. But odds are also good, if you live in the B-to-B space, that almost everyone you're connected to is a potential prospect, referral source or partner.
I see more engagement on LinkedIn posts than any other channel. If your content is strong and unique to you, LinkedIn may be the perfect place for you to step up your game.
The other upside of using LinkedIn with more frequency is that you have far less competition there. While the study shows that there's a growth in sharing, it still pales in comparison to the other big channels.
Another important attribute of LinkedIn is that people tend to read longer posts and articles. It's less about the pictures, memes and other social media shortcuts. If you're producing excellent content, it may get more of your audience's attention and respect on LinkedIn.
We've only covered two of the insights from this research. Print off the full report and walk through it with your team, challenging your status quo as you do.