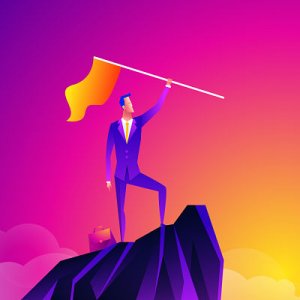 How consumers interact with the companies they do business with, and their expectations of us evolve and are a direct reflection of our culture and core beliefs as human beings. That could not be more evident than today. A study (it's done every year) called the Edelman Earned Brand Study is one of the most comprehensive pieces of research on how consumers (B2B and B2C) view their relationship with the companies they consider doing business with. The message from the 2018 study is unequivocal. Consumers, across the globe, expect us to take a stand.
The research found that 64 percent of consumers around the world now buy on belief, a remarkable increase of 13 points since 2017. These "Belief-Driven Buyers" will choose, switch, avoid or boycott a brand based on where it stands on the political or social issues they care about.
One of the most startling statistics in the study is that 65% of consumers will not buy a brand because it stayed silent on an issue that the consumer believes the brand had an obligation to address.
This seismic shift over the past few years (it's a trend we've been tracking since 2015) is a direct reflection on how we as a people are feeling about our society, our risks and our government. 53% believe that brands can do more to solve social ills than government and 54% believe it is easier to get a brand to address social problems than to get the government to act.
It's not just about features and benefits anymore. Whether people are shopping for toothpaste or a truck, they're factoring in a brand's principles as much as its products. According to the research, silence will cost a company customers and revenue. Staying on the sidelines is no longer an option for brands.
This belief set is no longer fringe or limited to a particular age group. The Belief-Driven Buyers are the majority in every country surveyed, across all age groups and all income levels.
Buyers are just as likely to express the intent to purchase after viewing a communication focused on a brand's stand as they are after seeing a product-focused communication. And if you're trying to create raving fans, this is even more important. Any communication focused on a brand's stand has an even more significant effect on a consumer's intent to advocate for the brand than one focused on product features.
If you want social interaction and to get your best customers talking about you – take a stand. The study showed that people are much more likely to talk to their family or friends about you or post something online (a reply, like or share) if the topic is your stand on an issue, as opposed to your product's features.
The Nike ad featuring Colin Kaepernick is a perfect example of this strategy that is playing out before our eyes. Think about how it dominated our social channels, the traditional media, and our water cooler conversations when it came out. Many consumers either vowed to never buy Nike products again or went out of their way to reward them for taking a stand by making a purchase.
In the polarized world we live in, I can see why a company's first instinct is to remain neutral. Why provoke either side? Why risk losing half of your potential customers because you spoke out on an issue or societal issue? But if this study is to be believed, and it's one of the most reputable studies in the space, you actually risk losing more consumers if you do nothing. Neutrality is an expensive choice.
How will your organization respond to this? I don't think you can avoid answering this question much longer.