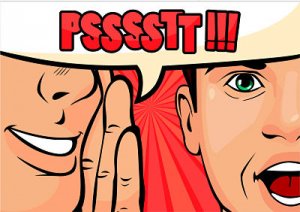 Looking for new customers?
In today's 24/7 plugged-in world, we tend to focus on the digital marketing tactics that are all the rage. Social media, SEO, and content marketing seem to get top billing of late but don't let all the hype distract you from some of the simpler, low tech tactics that have worked for decades.
Long before there was any mass media, advertising venues or even town criers – people relied on people they knew to steer them to the best establishments and buying experiences.
Word of mouth and referrals are as old as time and they're as influential today as they were back then. In fact, as consumers are bombarded by more and more ads, the raves of a friend or colleague seem even more compelling.
Every business, even if you're running at capacity right now, needs to have an active program to cultivate and earn new clients. No matter how good you are, a certain percentage of customers will always come and go, even if you're doing an incredible job. So, you must always be adding new prospects to the sales funnel. While I have covered how to leverage your website to feed the funnel in the past, I'd like you to consider a more low tech option as well.
I want to suggest a weekly activity that should go on every business owner/leader's To-Do list.
I want to warn you. You might read this and think, "well duh, Drew. Is that your big idea? Of course, we should be doing this." But before you dismiss it as incredibly obvious or so basic that it's stupid – ask yourself if you're actually doing it. My guess is, the answer will be no. Which is why I'm writing about it.
Put together two lists. The first list should include all of your current clients that you actually like working with and would gladly welcome another client like them. The second list should be every past client (over the last five years) that you actually miss doing business with.
Starting with your current client list – start scheduling a breakfast, coffee, lunch, drink, etc. with each of them…so you have one meeting each week. Ideally, between the two lists (over time) you could fill a year's worth of weekly appointments.
At this weekly meeting, your goal is two-fold. First, you want to genuinely let this person know that you and your team appreciate them and enjoy working with them. In the case of past clients, let them know that you miss working with them. Be sure you tell them specifically what makes them such a good client for your company. After all, you want them to help you find someone else with the same traits.
Your second goal is to ask for a referral. Tell your client/previous client that you'd like another client just like them and ask for their help. It's amazing to me how eager our clients are to help us grow our business when we take the time to ask.
If you're successful at booking a weekly meeting at least 40 weeks out of the year and if 25% those people can connect you to a new prospect or two, and you land half of them – that's five new clients and 40 renewed and rejuvenated relationships.
Here are the upsides of this tactic:
New clients who match the profile of your best clients
Your existing clients will feel appreciated and some of them will buy more
Some of your previous customers will probably come back
Low tech, low risk, and huge rewards. Why wouldn't you start your lists today?