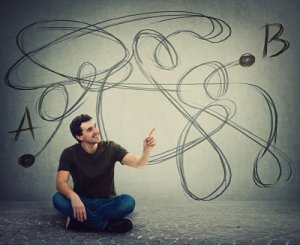 One of the staples of marketing is the ability to understand how a human being goes from never having heard of you to actually buying something from you, time and time again. In simple terms, it can be thought of as a sales funnel. But, that suggests a very linear, logical progression and if there's anything we know about humans, there's nothing linear or logical about them!
When marketers talk about the buying journey and it gets plotted out, it often looks like a roadmap for a very squiggly, hairpin-turn filled cross-country trek. It used to be pretty easy to map out the customer's path from lead to loyalty but the Internet has completely changed that. The linear buying pattern no longer exists.
Today, the buying decision is very fluid and three-dimensional. The prospects flow in and out of the stages (Awareness, Credibility, Connection and Loyalty) in a more web-like fashion – with some staying in the early stages for months or years and others rushing from "you're on my radar screen" to "do you want to get married" in what feels like a nano-second. There are so many more entry points today, that it's easy to get stuck along the way, especially if you haven't built in escape hatches to the next level.
In general, prospects are more cautious and reticent today than ever before. The stakes are higher because their organization's tolerance for slow or no results is very short. Potential customers are often very skittish and slow to make a decision. In fact, in many industries, the sales cycle is twice or three times as long as it was ten years ago.
Prospects can linger in the Awareness and Credibility phases for years. At MMG, we had a prospect carry newspaper clippings from some of my Business Record columns for years before he picked up the phone to set a meeting. Until that call – we had no idea he was in our sales funnel or that we were on his radar.
Some elements in the prospect's buying journey are accidental and difficult to plan or replicate. Others are very deliberate. It's important to sketch it out by identifying ALL of the elements you can think of, whether you created them on purpose or they're just happy coincidence.
For the awareness phase, for example, think of all the ways someone could learn about you and your offerings for the first time. That might range from seeing you at a trade show to clicking on a digital display ad. Put together as comprehensive a list as possible.
In the next phase, it's all about earning your credibility. Why should they pay attention to what you have to say? Build out that list. It's going to include tactics like content marketing and public relations. But you're not done once the list is complete.
One of the most overlooked aspects of the buyer's journey is the connective tissue between phases. How will you move someone from awareness to credibility?
Once you've mapped out the tactics that live in each phase and the activities that connect one phase to another, there's one more step. Because we're so visually oriented, I want you to create an infographic that captures this information in a way that you can use it to educate your staff and think through your actual business development activities. There's no way you'll be able to actually execute on all the tactics in each phase but mapping it out visually will help you make better decisions and identify those tactics that you need to move prospects from one level to the next.
From there, you can create a marketing plan and activities calendar for 2020 that will guide your budget, decisions and action plan.
This was originally published in the Des Moines Business Record as one of Drew's weekly columns.