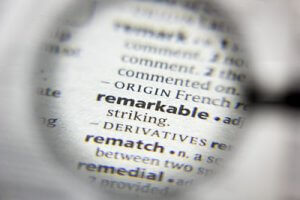 I think we, as marketers and business owners, have to adjust our expectations. Many business leaders assume that if their organization delivers its promises, that is enough. If all you're hoping for is a satisfied client – it may be. But if you are expecting your customers to shout from the rooftops how remarkable you are just because you did your job like you said you would, you might be disappointed.
For the last several months, I have been using a cleaning service called The Queen of Clean. Every time they came to clean my house, they did a great job. They were leaps and bounds better than the cleaning company I had been using so they exceeded my expectations, based on what I had been receiving previously.
They left a checklist, showing me what they'd done, and the house was spotless when they left. They kept their promise to me.
In return, I continued our contract and had them come back. But I didn't tell anyone about them. I didn't recommend them to anyone. I didn't leave a positive review anywhere. I didn't even reach out to the owner to let her know they were doing a great job.
I like to think I'm a nice guy and I understand the power of reviews. So why didn't I make the effort?
I was satisfied. But nothing more. The good job that the cleaning crew was doing didn't inspire me to do anything but let them come back. They did what they promised, and I did what I promised in return. The exchange was equitable.
Then, something changed. I came home after being gone for five days. The cleaning crew had been scheduled to clean while I was gone and clean they did. I walked into a very clean house, and I was satisfied.
I went into the master bathroom, and when I flipped on the lights, I started to laugh. One of the ladies had taken the time to use the vacuum cleaner hose to "sculpt" Mickey Mouse's head into my bathroom rug. As you might guess if you know anything about me, my entire house has a healthy sprinkling of Disney items throughout so she just added to my "collection" of Disney art but in a very original way.
At that moment, I went from being a happy customer to being a delighted one.
Here's what I did in response:
I took pictures of the rug and posted them on my Facebook wall, and I tagged the Queen of Clean's Facebook page
I liked the Queen of Clean's Facebook page and wrote a post, sharing my photo and telling them how Tori's artwork had made my day
I left them their first review on Angie's List
I left a 5-star review on YELP which counterbalanced a very negative review
I saw on their Facebook page that they were supporting a charitable event, so I participated in that opportunity with them
I am writing about them and mentioning them by name on purpose, so other people can learn about them
All of that happened not because they did a good job cleaning my house, but because they made me laugh out loud. Because they paid attention to who I was as a customer and went out of their way to do a little something extra that had nothing to do with their core service.
A little something extra. That's all it takes to go from having a satisfied but silent customer to creating a fan who will sing your praises on review sites, to their friends, and on social media.
Which would you prefer?
This was originally published in the Des Moines Business Record, as one of Drew's weekly columns.