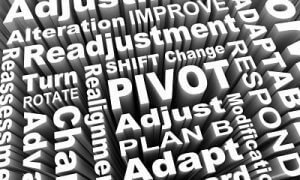 Iowa is readying itself to reopen for business, and some parts of the state have already done so. But just because people can dine out, stroll through mall stores, or start holding face-to-face sales meetings does not mean that they will.
If the behavior of consumers and business buyers in other countries and states that are ahead of us is any indication, our return to what we define as normal will be slow at best.
And even if your customers come flocking back in droves on day one, how they come back, how many come back at once, and how you interact are all going to require, at the very least, a temporary change or pivot.
Many B2C and B2B consumers are saying that they're not ready to go back out into the world as before. They're going to continue to either stay at home or only go out or have contact with others when it feels essential.
Are you ready? Depending on what you sell, you may have to look at adopting and adapting to some of the shifts that we've watched other businesses make as they worked to continue to serve their customer base through the pandemic.
E-delivery: Are you used to sitting at a conference room table with your prospects and clients? Is that face-to-face contact how you sell or how you deliver your products or services? Many businesses that believed face-to-face was the only option have been forced to admit that there is another way. It may not be the ideal way to deliver what you do – but it may be more convenient for your customers, and they may not be excited to go back to the old way, at least for a bit.
Reaching the end-users: Many brands who have worked through distribution channels in the past have used COVID-19 as an incentive to connect directly with their end-users. If you typically sell through a dealer network or some other intermediary, you may want to consider augmenting your marketing and brand activation to include those end-users who are looking for brands to believe in.
Contactless delivery/concierge offerings: This is one of the business pivots that I suspect will last long after C-19 is gone for good. We have all gotten very used to everything being delivered to our front door. For some businesses, like Pizza Hut or Amazon, this has been their model from their inception, but now just about everyone is delivering or modifying their product or service so you can take advantage of it without ever leaving the convenience of your home or office.
Now would be a brilliant time to survey your customers to ask them what elements of how you've worked together for the last two months will still be appealing once we open back up. Odds are, you've bent over backward to be accommodating during the crisis. It's highly unlikely that your clients are going to be excited if you go backward and are less accommodating as we work our way back to a post-COVID reality. Why not allow them to help you shape the future of what you sell, how you sell it, and how you deliver it?
There are two irrefutable truths to this moment in time. The first is: It will pass. The second is: It will change us in many ways forever, including the work we do, who we do it for, and how we do it.
Now is the exact right time to be having these exploratory conversations with your team and your customers. Who knows? Maybe the new normal will make you even more valuable and more essential to the people you serve.
This was originally published in the Des Moines Business Record, as one of Drew's weekly columns.