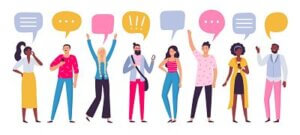 As businesses reopen and invite customers back into their establishments, it's safe to say everyone is on edge.
Business owners are understandably concerned. Just because they've reopened or their employees are coming back, that doesn't mean the clients will.
Employees are anxious too. They are worried about their physical safety, but they're not sure if their jobs are secure or what they're going to do with the kids this summer. They're also wondering how the clients are going to react to the new restrictions and rules.
Your customers are also feeling uneasy. There are so many unknowns. Are you going to have new rules, new hours, or service delays? Should they be out and about at all? Will you be wearing masks? Do they need to wear masks?
There will be three critical stages of communication as we march our way back to post-COVID normal. We're going to take a look at the pre-visit communications you need to have with your team and your customers.
Your employees know it's going to be their job to help you manage all of the changes that come with your post-COVID reentry. The more you can prepare them, the more comfortable they'll feel, and in turn, the more they can put your customers at ease.
Here are some things to cover with your team:
You own your company's rules. Be very clear about what you want and what you are willing to accept.
Your staff needs to have a high level of clarity and permission to enforce the rules. Remember, they typically have more client contact than you do.
Role-playing and scenario discussions can be very helpful in this phase. No one has done this before, so nerves are high and confidence is low.
Help them imagine all of the special requests and brainstorm possible responses.
Define your protection of them, so they aren't afraid to take action. Make sure they know you have their back.
Remember, they're feeling a lot of emotions too. Show them that you care about those emotions.
Check-in with them personally. Ask about their families and what's going on in their personal life. Remember that COVID has affected every aspect of people's lives, and that can influence how they show up at work.
Ask about their worries, excitement, etc. as you go back. Get them to open up by sharing how you're feeling. You're also going to want to level up your communications with your customers so they can picture in their heads exactly what to expect. The more they have a sense of what their experience is going to be like, the quicker they'll come back.
Describe the experience, so they know what to expect. Help them understand what is and isn't changing.
Use visuals whenever possible. Help them literally see how you've reconfigured things, what they'll see when they walk in the door, and all the ways you've made it easy for them.
Posting FAQs on your website or your Facebook page will be helpful. Every time you get asked a new question, update the FAQs.
Be clear about suggestions versus rules. Help them honor your rules and avoid being chastised or embarrassed when they walk in the door.
If masks are optional, be very clear about that. If you're going to turn them away if they show up without a mask, you don't want that to be a surprise.
What this is really about is you demonstrating your compassion for your employees and your customers by reducing their anxieties about reengaging. Next time, we'll look at how to communicate while everyone is actually in your place of business.
This was originally published in the Des Moines Business Record, as one of Drew's weekly columns.