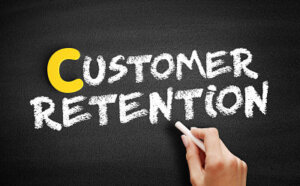 This will wrap up our look at how to successfully reopen your business to customers to make them feel safe and welcome. Previously, we've worked through how to properly prep your team and your location for client visits and what to do to make their actual visit as frictionless as possible.
All too often, people think that marketing stops once the transaction is complete. That couldn't be further from the truth. The most important marketing you'll ever do isn't the effort to get the first dollar. It's to get the second.
How we communicate with our clients who have made the conscious decision to break free of the pandemic's paralysis just to do business with us is going to be where we win or lose the game. It doesn't matter if that was a client you've had for a decade, or you've never met them before – we're living through a dramatic reset, where we have to re-earn everything.
What does that post-visit or post-transaction marketing look like? It starts on the inside. In many cases, your employees are working in an agitated, artificial environment. Checking in with them to see how it went is your first step. Catch them doing things right and use those as teachable moments with your entire team. Do more postmortems than usual, identifying unique situations, and work together to define best practices for handling each scenario.
With your clients, in order to retain them, you first need to communicate your gratitude for the opportunity to serve them. This has to be done in a very authentic way, so it feels and sounds like you. Now, in particular, is not the time for canned, generic messaging. Ask for candid feedback on their experience and what you could have done to make it even better.
There are some danger areas where you may need to communicate with more frequency and depth. If they have a complaint about their experience, remember that people are on edge. That escalates their reaction to everything, so factor that in.
If you had to create some sort of workaround during the pandemic to facilitate sales, like curbside pickup or special financing that you are not going to keep offering, you will have to over-communicate not only the change but more important – why the change.
Why aren't you still offering whatever accommodations you created during the shelter in place period? Don't be too hasty to eliminate all of what you thought of as "during the crisis" changes you've made. Some of them may have won you new clients. But if you really believe you should eliminate some of the temporary stopgap measures, try to see the change from your customer's perspective and explain it with that lens. Saying you aren't going to do it anymore for self-serving reasons is not going to play well in this current environment.
As you communicate with both customers and your team members about what's coming next, changes, new additions, or elements that may be going away, be very mindful of the words you choose.
Now is not the time for absolutes. If 2020 has taught us anything, it's that change is inevitable. Do not make promises you may not be able to keep as we continue to work through the phases of recovery. We are definitely in a season of under-promising and over-delivering.
You also want to make sure your messages convey the emotional side of the equation. Because we're all a little weary, it would be easy to take shortcuts with our communications. Guard against that. Communicate often, and remember: Brands that lead with their heart and genuinely and consistently demonstrate their concern and care for the team and their customers will win the day.
This was originally published in the Des Moines Business Record, as one of Drew's weekly columns.