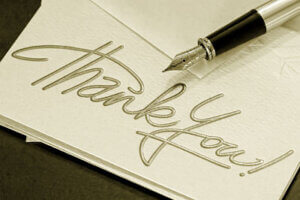 When you focus on being thankful, there's nothing but good that can come from that emphasis. I have always believed that gratitude can be a business's secret marketing weapon when it's baked into the company's values, policies, and behaviors.
I believe that most people are grateful by default. But I do not believe most people express that gratitude by default, and if they do, it's not with the frequency that it could or should be. When we're on the receiving end of genuine gratitude, we feel its power. But we get busy and as ridiculous as it sounds, we forget to be grateful.
Much like any other value, belief, or behavior you want to instill in your company, I think you have to bake in gratitude. It needs to be systematized, even though that makes it sound rote or mechanical so that it becomes part of your organization's DNA and culture.
When we experience someone's thankfulness, it colors our view of them and our interaction. It also earns us some extra grace for that inevitable mistake or misstep. More important – it literally pays off.
Baylor University did a study that documents that a salesperson's expression of gratitude increased customer commitment, repeat purchases and referrals
The International Business Research Journal cites studies that have demonstrated that organizational gratitude reduces employee turnover, fosters employees' commitment to the organization and increases productivity
Harvard Business School and Wharton published research that shows that expressing your gratitude can result in a huge spike in a vendor or partner's investment and willingness to help your business when you are in a jam
If gratitude delivers that kind of ROI for a business, how do we make sure that it's a core value and expression of our brand? You have to institutionalize it. It needs to be part of the rituals, best practices, and habits of your organization.
Let's look at some ways you can shower your customers with gratitude. This can't be faked. Gratitude that comes from an authentic place is marketing magic. Gratitude that is scripted and rehearsed to manipulate others is pretty easy to spot. I am all for you spreading gratitude far and wide, but make sure it's coming from a genuine place. Assuming that's the case, here are some options to consider:
A handwritten thank you note: In today's ping-crazed world, where emails and instant messages are all the rage, there's something very special about a handwritten note. Be specific and clear about what you value about your relationship and being able to be of service.
Client only events: A really special way to express your gratitude is to give your best customers access to something not available to the general public. It might be a sneak preview of a new product, or you could consider bringing in a subject matter expert that will help them grow their business. This is about giving back without any expectations.
Introductions: One of the most significant assets you have is your collection of connections. Thoughtful and targeted introductions that widen their circle and give them new partnership opportunities are invaluable. In your introduction, talk about how awesome they are to work with and give them a rock-solid endorsement.
Ratings and Reviews: Every business is influenced by ratings and reviews these days. Why not create a program that systemizes public ravings about your best customers?
Big or small, start recognizing your clients and overtly thanking them for choosing you and your business. Not only does it have a positive effect on your bottom line, but it's good for your heart too.