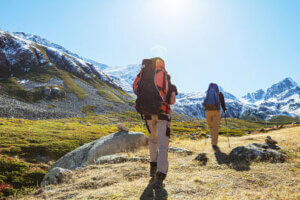 We've been exploring what it means when someone tells us that we should be using storytelling in our marketing efforts. Today, I want to delve into the idea of the hero's journey. For most people, the concept that our customer needs to be the hero of the story and that the brand can be a useful sidekick makes sense. But the idea of being able to bend your marketing messages into a tale of a journey feels a little less tangible.
Don't start out worrying about the marketing message. Just think about your prospect and how you want them to move from where they are right now (before they buy from you) to the story's happy ending, where because they found your product or service, they're in a much better place.
There are stages within the story/journey. Let's look at those stages and how a hypothetical business might build out the story.
The first stage is the status quo: In my example, the hero of my story (my prospect) is a 55-year-old woman who is dealing with her aging father. She suspects her dad is showing signs of early dementia, but it may also just be forgetfulness.
The next stage is the challenge: The daughter is spending more time caring for her dad but wants dad to be able to stay in his own home because she promised her mom she'd watch over her dad, and moving him into a nursing home feels like she isn't doing that. But it's getting tougher to keep him home every day.
Next comes the refusal of the challenge: This is where our hero feels stuck. She wants her dad to be healthy and not need her to make this decision. What if she makes the wrong decision and doesn't keep her promise to her mom? What if she leaves him at home and he falls when she's not there? Or what if she chooses the wrong nursing home and he gets inadequate care?
This next stage is critical. It's where our hero meets the wise sidekick: The daughter spends more time on the internet, looking for ideas and guidance for caring for her father. She finds a local nursing home's website that is organized in a way that she can understand. It offers tips and resources for keeping a loved one at home. It has assessments so someone could gauge whether or not staying in the home was a safe and practical solution. It has a list of questions to ask every nursing home to assess each facility and find the perfect fit for your loved one.
This site also had testimonials from real people (with their names included) talking about the care their loved one received at this particular facility. It offered caregiver support groups for anyone in the community, regardless of whether their loved one was still at home or even at another facility.
None of this felt like a sales pitch because it was built to help site visitors genuinely make the right decision for their family. The sage sidekick demonstrated over and over again both their expertise/knowledge and their compassion with empathy for the family member dealing with this situation.
This is the pivotal moment in the story. Will the hero trust the sage sidekick enough to engage them? Will they decide they must continue the journey but invite the sidekick to join them?
And like any good story, we'll stop here at this cliffhanging moment. I'll wrap up the deep dive into the journey part of storytelling by finishing this example next time.
This was originally published in the Des Moines Business Record, as one of Drew's weekly columns.