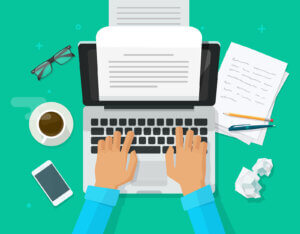 In last week's column, I walked you through some preparatory activities you should consider if you want to write a book to use as a three-dimensional business card, business growth enhancer and credibility tool.
This week I want to give you some hacks for actually writing the book. If you didn't work through the prep work from last week's column, I strongly suggest you do not embark on these suggestions until you have laid the proper groundwork.
But assuming you have, let's talk about the work of actually getting the book written.
Decide on your format: In the nonfiction category, there are many options. Your book might be based on your personal journey in your profession or some lessons you learned along the way. You might interview people who have something in common to draw out some takeaways from their stories. You might write a business fable or a how-to book. Understanding the format you'd like your book to follow will make the creation process much more manageable.
You don't have to write a word: Many authors are better talkers than writers. You could talk your way through each chapter and have your recordings transcribed. Many authors are very comfortable editing their work, and for some reason, that is a much more successful strategy than starting with a blank page. With today's technology, you could record your thoughts on your phone, upload the audio file to one of the many transcription services, and have a transcription back within a day.
Don't start from scratch: I'm guessing you already have a fair amount of your book written, even if you don't realize it. Look through your past presentation decks, keynote speeches, articles, blog posts and even proposals to prospects and clients. It may not be in the format you want, but you may have more of the core elements created than you think.
Bigger isn't always better: Many business books are shorter than fiction offerings. You're not trying to create "War and Peace." Given that you're writing for a business audience, remember their attention span. Don't feel like you have to pad the book to get to a certain number of pages. Many popular and successful business books are under 150 pages.
Don't write it at all: Many classic business books were written by a ghostwriter. It's not cheating to have someone else capture your thoughts and get them down on paper. Ghostwriters are brilliant interviewers. They can help you build your outline, decide on your book's structure, and then, typically through a series of conversations, extract the book from your stories, experiences, and teachings. Many authors will have a ghostwriter create the first draft, and then the author edits that draft to make sure it sounds just like them. Skilled ghostwriters can not only capture the information you want to convey in your book, but they can mimic your style and tone perfectly.
Know why you're making the effort: Most of us are not going to make a living by being an author. Our books are a means to an end. Being very clear about how you're going to leverage your book once it's complete will help make many decisions as you write and edit your masterpiece.
Being an author doesn't have to just be a dream. No matter how busy you are or how insecure you feel about your writing ability, if you want to write a book and can already envision the incredible value it can provide your business, you'll find a way to make it happen. Hopefully, some of these author hacks will serve you well as you sit down to capture the book that only you can create.
I look forward to reading it!
This was originally published in the Des Moines Business Record, as one of Drew's weekly columns.