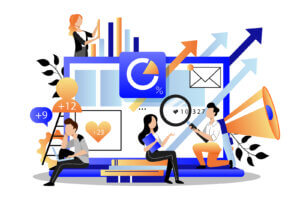 This year, the trends are far less about new channels and much more about the world around us. For the next several weeks, we're going to examine some of the most influential trends that will shape how we approach marketing in the coming year. There certainly can be no more crucial economic trend than the recession itself.
We've seen marketing and media budgets slashed and longer-term strategies like brand building pushed aside so companies could move as much of their marketing spend to performance channels as possible. It's a little like Maslow's hierarchy of needs. When your company is in panic mode, you focus on short-term survival, and everything else can wait for another day. But how long can we wait?
The uncertainty with which we entered 2021 is already taking its toll on some segments and media channels. But, of course, the pain will not be felt equally. Some markets and categories have sailed through the last year and are posting big gains. Other categories are starving for sales and have suffered incredible losses. How and where we will spend our marketing dollars is equally uneven. Many advertisers have already increased their spending on Facebook and Google. Amazon and TikTok are also winning share of budgets, as marketers prioritize audiences closer to the point of transaction.
Another big winner due to the pandemic and recession combination is online video. With the promise of 5G, consumption will continue to increase. What's interesting about the video trends is that they are tightly tied to influencer marketing. Not only will brands be creating their own video content, but they will also be spending more money with influencers who have a strong video following.
There are some upsides as we slowly come out of the recession. Media costs have been lowered in most markets, so advertising dollars will stretch a little further. This price reduction coincides with a significant increase in media consumption. You will pay less for even more eyeballs.
We've known all along that the brands who remained visible, marketing to both their current customers and potential customers during the crisis, would fare better than those who went dark. This will continue through 2021. Now is not the time for your brand to be timid, especially if your competitors are dialing it back. There is market share to be captured if you're willing to go after it.
We most likely will not experience a full economic recovery until after the mass distribution of the COVID-19 vaccine. Experts suggest an April – early June timeline before everyone in the US who wants a vaccine can obtain one. The uncertainty will dissipate reasonably quickly after that, which means you have a few months left to make the most of the paralysis that some businesses are exhibiting.
But 2021 may provide some brands in a position of strength with an unprecedented opportunity for share of market growth. Many companies are going to be solely focused on retaining their existing customers. But, when people experience a significant life event, their ingrained habits are broken, and they have to establish new habits. With some smart marketing, you could be one of those new habits!
There's no doubt that a global event like the pandemic and the sweeping recession that came along with it is going to be one of the biggest trends of 2021 and as you'll see in the subsequent columns, the other trends, in some ways, are the ripple effect of this megatrend.
This was originally published in the Des Moines Business Record, as one of Drew's weekly columns.