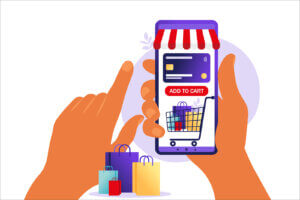 In this second column of the 2021 trends series, I want to talk about the acceleration of e-commerce adoption. The pandemic forced many consumers to change their purchasing habits, and e-commerce was the lucky recipient. Techcrunch predicted e-commerce would be up more than 20%, and in the third quarter of 2020 e-commerce increased by over 30% over the second quarter.
There's no doubt that the forced isolation, stay-at-home orders, and working from home have all accelerated e-commerce growth globally, and most marketers predict this shift is permanent.
On the flip side, we are all urging each other to buy local and support the businesses around us. The question is really: How do we take the best from each buying experience and weave it throughout the other?
As consumers, we all love the 24/7 convenience of online shopping. It's hard not to delight in being able to do your holiday shopping in your jammies while enjoying a roaring fire at 10 p.m.
But that delight often turns to frustration when you can't reach anyone to resolve a problem or ask a question.
On the flip side, we love being welcomed into a store or business and enjoy the personal service. But it's frustrating when we made an effort to get there and what we want is out of stock, or they can't help us.
On the local front, many businesses have had to reinvent how they deliver their products and services in 2020. Innovations around deliveries, curbside pickups, ramped-up websites with more functionality, and even Zoom delivery of services that had traditionally always been face-to-face. But finding ways to integrate the warmth of the in-person experience with a robust website and active social media channels will be critical for survival in 2021. "We don't have time or the money" just won't cut it anymore. Having a digital presence is mission-critical.
It's time to go beyond the convenience factor for businesses that are already crushing it on the e-commerce side. Creating brand loyalty and a community of happy customers will allow you to develop a connection with your customer base that will encourage repeat purchases and word-of-mouth buzz.
The other area that needs plenty of improvement is the gap between the organization's brand and the online experience. Convenience loses its allure when you can't get hold of someone to answer a question or deal with an issue.
Every business needs to be paying close attention to how and where their brand shows up online. Findability goes beyond simple SEO. Getting on referral sites, digital shopping lists, and ramping up your efforts to get reviews are all going to be critical.
But it's not all about the online aspect of the relationship. Building your brand promise and ensuring it's delivered at every touchpoint is even more critical when you have never met your customer in person. Your brand has to be much bigger than the channel. Your brand needs to be channel-agnostic.
Another aspect of e-commerce that needs some attention is the whole concept of packaging and presentation. There's a lot to think about in this arena. We immediately go to protecting the contents from breaking. Given the power of social media, live streaming, and influencers, the unpacking process itself should not be ignored. How do you make the opening of your package an experience unto itself?
How do you bring your brand to life if you don't get to interact with your consumer in person? How does your brand translate to Zoom, an e-commerce site or an email interaction?
That's the most important question we need to answer as we acknowledge that the digital revolution is here to stay. It's filled with opportunities if we're smart enough to seize them!
This was originally published in the Des Moines Business Record, as one of Drew's weekly columns.