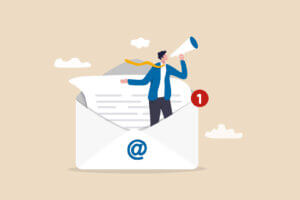 In last week's column, we covered the power of email and some of the ways we could improve our use of this tool in 2021. I promised that we'd talk about the role that email plays in each segment of the sales funnel, and that's what we'll cover in this week's column.
Before we can talk about the funnel, we need to talk about what you're going to send. If the plan is only to send sales notices and product promos, don't bother. Your audience will hit the unsubscribe button in a flash.
Think of your email as your best portal to creating a relationship with your buyers and potential buyers. Like any relationship, it's about being interesting and valuable to them. When businesses create a newsletter, they often emphasize the wrong part of that word. It's not the news they crave; it's the letter. The getting to know you and your company part. If you want them to stick around, you must create a connection.
The top of the sales funnel is all about attraction and awareness. In this phase of the funnel, the prospect doesn't know you or your company, and odds are you aren't aware of them either.
Many companies will offer a lead magnet (downloadable information) to capture email addresses. You might also attract them to you via social media, advertising, re-targeting, etc.
However you get their email, the next step is critical. Creating a memorable first impression.
Your welcome email needs to bring value, a sense of who you are and what they can expect. Don't try to sell anything in this email. Just create the connection.
The next phase of the funnel is what you could call the mushy middle. They're not newbies to you anymore, but they are not ready to buy. The biggest mistake you can make at this stage is to hard sell. Many of your email contacts will remain in this phase for years. You need to be ready to provide value for as long as it takes.
In this phase, you are consistently helpful. You teach. You share resources and tools. You answer questions. You can soft sell, and when someone clicks on one of those links, they're indicating to you that they're ready to move into the next phases of your sales funnel – consideration and conversion.
Once someone has raised their hand and indicated that they're ready to learn more about what you do or sell, they've dropped into the next phase of your funnel. Typically, in email, this is done when they click on a link to learn more about something you've mentioned in your newsletter or email blast.
Now you can begin to talk more explicitly about what you sell. But it should still be done from the "how can I help them be better at their job or make their life better today" point of view. This is where you ask them to move from email to another form of communication by filling out a form or picking up the phone to schedule an appointment, or maybe go right to purchase.
The phase of your sales funnel that most businesses forget about is the post-sale phase. This is where you move from a transaction to a relationship based on loyalty, and if you do it well, advocacy, where your best clients are also your best marketing.
In this phase, think about exclusive offers, insights you don't share publicly or exclusive events.
This is where you make them feel loved and appreciated.
Email is an essential element throughout your sales funnel. But being mindful of where you and your audience are at will help you craft the right message for the right time.
This was originally published in the Des Moines Business Record, as one of Drew's weekly columns.