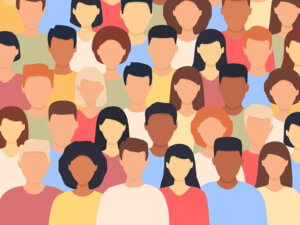 I can't imagine a business that would answer yes to that question. Even if they all come from the same industry, our clients are still quite different and are looking to us to solve specific challenges that matter deeply to them.
Which is why it's interesting, and in many cases, a little short-sighted that we often pursue all of our prospects in the same way, with the same message. While there is value in mass marketing at the top of the funnel, you should be talking to them about precisely what they want to know as you learn more about a potential customer.
This is easier to accomplish when you're chatting with the potential client on the sales floor or in a sales conversation, where you can ask questions and determine where they're at in the sales cycle and what is explicitly on their mind.
But, you don't have to be actually speaking to your prospect to know what product or service they're interested in. If your website is more than a brochureware site and has some helpful content, detailed product or service information, and simple FAQ or a blog that is active and focused on answering the kinds of questions your prospects are asking – you can get a pretty good sense of what's on their mind.
If you're using a marketing automation tool, you can identify and track those web visitors.
You can see:
Which pages captured their attention and for how long.
How many different pages they visited.
How often they keep coming back to your site.
Which pages they returned to multiple times.
The length of time they spent on the site and the pattern of pages they visited.
Their email address or, at the very least, the domain (often the company name) of their email address.
Much like following them around a showroom floor, this data allows you to get a sense of what is on their mind and what they're finding valuable.
Most marketing automation tools will also give you a lead score based on the visitor's behavior that will help you identify which of your site visitors are further along the sales funnel and might be ready to engage in a sales conversation.
Many of your web visitors will not be in the market to buy on that very day. But, if you started an email drip campaign or served up digital ads related to their interests, you could nurture that lead for as long as you needed to and be ready to engage in a sales conversation when they're ready. With each new visit from a specific prospect, the software will adjust the messaging you're putting in front of that person. Much like you would in a face-to-face conversation, the tool is "listening" to the prospect and then aligning your next response based on what they heard.
No more generic messaging that is the same for everyone. Your marketing can now be responsive on a visitor-by-visitor basis and allow you to focus on the issues that are top of mind for that prospect.
That same marketing automation tool will be able to tell if that particular prospect opened the email you sent or engaged in one of your digital ads. All of that data continues to influence the lead score, so you can see which of your prospects are getting closer to making a buying decision.
One of the first steps to making someone know you care is acknowledging them as a person. For most businesses, the data is there that will help you speak to every web visitor like the individual that they are. But you need to know how to mine and use that data to create a valuable and helpful interaction.
This was originally published in the Des Moines Business Record, as one of Drew's weekly columns.