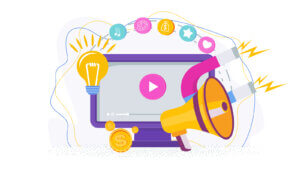 Video, when done right, is dynamic, engaging and helps a business break through the clutter. It used to be that producing a video was time-consuming, expensive, and there weren't that many channels for sharing the finished product.
Today that is definitely not the case. An organization has infinite possibilities in terms of where to use a video these days. Your own website, landing pages, social media, email, ads, trade show booths, your lobby, employee and client onboarding, and virtual conferences are all smart choices. And that's just scratching the surface.
Beyond the channel possibilities, there are also the power and versatility of video. It is attention-grabbing. You can deliver information effectively and efficiently, and your audience gets a sense of your brand's personality. All of that builds trust with your audience.
Over the years, we've covered the know-like-trust model many times. No one buys anything of significance without knowing, liking, and trusting you. Video done well can deliver that in spades.
Here are some statistics to strengthen the argument:
A minute of video is worth 1.8 million written words (Forrester Research).
90% of consumers say video helps them make buying decisions, and 64% of consumers reported that seeing a video makes them more likely to buy (Forbes).
When video is present on a landing page, conversion increases by 80% (Hubspot).
Not sure how to use video in your business? Here are some approaches to consider.
Business overview: This is a first-person introduction to your business, your products and services, and your brand. Some business overview videos are you on camera and then your voice-over B-roll footage or still photographs and text. You could also set up an interview-style shoot with the company's leadership to talk about how you serve your employees and customers.
Testimonials or social proof: Clients raving about you or case studies that demonstrate how you saved the day are incredibly compelling storytelling that video delivers beautifully. You can shoot these on location (or even on Zoom) or use voice-overs while you show your product or service in use.
Teach: One of the smartest marketing tactics out there is to share what you know generously and frequently. When you help someone without asking for anything in return, you forge a relationship long before they buy from you. This could be a single video or a series on your industry, an aspect of how your potential clients could be more successful, or anything else you know they need to learn.
Explainer: The explainer video has become much more popular and affordable in recent years. Most businesses use animation to create a video that introduces or explains a complicated process or idea. This is the one style of video you probably can't do on your own. Fortunately, there are amazing resources that make this a very affordable option for even the smallest businesses.
Live videos: Up to this point, all of the examples are videos that are shot and edited before anyone sees them. But if you're brave enough to take the risk, live video brings many benefits. It's interactive and it gives you the opportunity to answer questions, get feedback and really get to know your audience. Live video works best when you go live on a consistent schedule so your audience can plan on joining you.
There are very few marketing tactics that I would say every business should be folding into their marketing plan, but I am hard-pressed to think of a business, big or small, that couldn't be putting video to work to grow and strengthen their bottom line.
This was originally published in the Des Moines Business Record, as one of Drew's weekly columns.