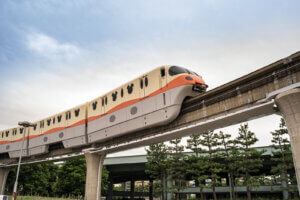 I am an unabashed Walt Disney fan. Like all of us, I know he had his flaws, but it's hard to argue with his business success. He arrived in California in 1923 with an idea for a cartoon series and the need for a distributor. Once he secured that first yes, the Disney company was born.
Four years later, Walt's distributor told Walt, pointing to a clause in their contract, that he  — the distributor, not Disney — owned the characters Walt had created and he was going to make future cartoons without Walt's involvement. That was the last time Walt signed a contract without knowing what every word meant or could mean.
Walt had to walk away from his first moneymaking creation, Oswald the Lucky Rabbit. But with his back against the wall, he knew he had to create a new character for his growing studio. That's when Mickey Mouse made his first appearance. To say the rest is history completely ignores the torrent of challenges Walt faced over the years. But he won his first Academy Award in 1932, just five years after he thought all might be lost.
One of the things I admire most about Walt's business acumen is that he figured out multiple ways to make money. If one aspect of the business was struggling, there were plenty of others that kept feeding the health and growth of the overall company.
Over the years, I have studied the evolution of the Walt Disney Co. and Walt's leadership gifts. I have gleaned seven core beliefs that I see running through Walt's life and, interestingly, still see them as guiding principles in the Disney Co. today.
Over the course of the next several columns, I'm going to unpack each of these seven principles and look at them from both a business growth and a marketing perspective. I think you'll find some thought-provoking takeaways as we delve a little deeper into each of Walt's best habits and beliefs.
Here's a sneak peek at what we're going to be covering:
Your vision must be so clear and so well-articulated that someone else can complete it perfectly, even if you're not there anymore.
No detail is too small, and in fact, the smallest details have the biggest impact.
Obstacles are road maps to innovation.
If the team is happy, the customer is happy.
Ask the best questions, because you have to keep learning.
You're never done.
Never forget who you serve and why you matter to them.
In 2020, the Disney Co. held assets worth a total of over $200 billion and, in its 2020 annual report, announced that its revenues exceeded $65 billion. Even after COVID, it has more than 200,000 employees across the globe and is diversified in its product offerings. 2020 was brutal for the company, and its income loss topped $2.8 billion, but as it has done so many times since Walt started the company in 1923, it will be back with a vengeance.
The company has plenty to work with to rebuild after the pandemic. Disney creates movies and original TV programming, owns theme parks in the U.S., France, Japan and China, and owns other entities like Pixar, Marvel and LucasFilm.
But above all that, it has 200,000 employees who believe in the magic that is Disney and who operate the company, from the guy who sweeps up popcorn in the Magic Kingdom to CEO Bob Chapek, with these seven core beliefs front and center.
I believe every one of us, no matter what our company does or sells, can learn from the lessons Walt's life can teach us. It will strengthen our messaging, our marketing and our bottom line.
This was originally published in the Des Moines Business Record, as one of Drew's weekly columns.