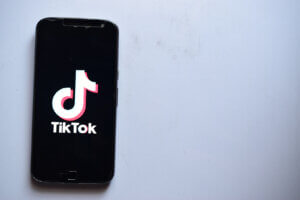 TikTok is a short-form video-sharing app that allows users to create and share 15-second videos on any topic you can imagine. It's such a phenomenon, it's hard to fathom anyone in the U.S. not being familiar with it. But for many marketers over 50, you may not be as familiar as you should be with this app or its uses. Only 7.1% of TikTok users are age 50 or older.
We may not use the app personally, but as marketers, we can't afford not to understand how the app works and its appeal to both its core audience and to brands.
Since its launch, the TikTok app's popularity has been growing tremendously. In October 2018 it was the most-downloaded photo and video app in the Apple store globally, and it maintains that position today.
In the U.S. alone, it has been downloaded over 96 million times. It had about 1.1 billion active global users by early 2021.
The app has simplified video creation and sharing and taken it to the next level of easy and convenient. To contribute to TikTok, all you need to do is record anything — from a routine part of your day to a special event, or an orchestrated attempt at humor.
You can then post it instantly. Because of the 15-second length limit, neither the video creation nor the consumption of a video takes much time or effort.
Another feature of the app that adds to its popularity and usage is that the short-form video content is played as soon as a user opens the app. The videos start playing one by one and a viewer gets lost in a sea of video content. Due to the addictive nature of this type of content, it is very easy for people to keep watching random videos for hours. In 2020, the average user spent 21.5 hours a month on the app and more than 50 minutes per day.
Over 90% of the users use the app more than once a day, and 34% of the content creators on TikTok post at least one video per day. One huge advantage TikTok has over its competitors is that it can and does localize content.
The average TikTok user is a female between the ages of 13 and 24.
Marketing on TikTok is still in its infancy, which is an advantage to the early adopters. Brands, and in some cases their agencies, are eager to create the kind of content that gets clicks on TikTok. Conventional advertising that stresses a product's superior features and benefits won't work on this particular platform. Lighthearted, whimsical or funny campaigns set to music hit the spot. The ultimate goal is to go viral on the site, and in some cases, actually encourage imitations by other TikTok users.
One of the more universally appealing aspects of TikTok is how celebrities and influencers are using it. The app has paid partnerships with several celebrities around the globe, who promote the app to their audiences. The app uses these paid celebrities and influencers to create buzz around the platform and generate viral content.
The platform also launched TikTok for Business in June 2020, essentially an in-house marketing agency. A Shopify integration was announced in October 2020 to bring e-commerce into the app's offerings.
By building these advertising and e-commerce functionalities, TikTok is clearing a path that will see the platform mature into a powerful social commerce tool as well as an epoch-defining creative hub. As marketers, we can't afford not to have a handle on this important channel and how we can leverage its audience and functionality.
In next week's column, we'll look at some successful TikTok campaigns and why they worked.
This was originally published in the Des Moines Business Record, as one of Drew's weekly columns.