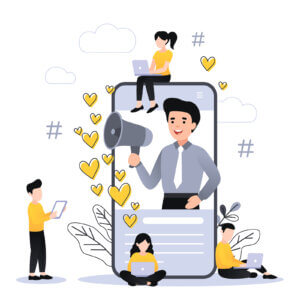 In last week's column, I applied some tough love on the idea of using influencer marketing. I wasn't in any way suggesting that brands avoid using the power of influencer marketing. But I sounded some warning signals around how not understanding the nuances and legalities of the practice can get a brand into some serious trouble.
I promised I would follow that column with a look at the bright side of micro influencer marketing.
Just a refresher from last week: An influencer is someone who has built an audience and community around a specific niche. Influencers are people who have the power to affect buying decisions of others because of their position of authority, knowledge, celebrity or status.
While many micro influencers are famous within their own circle of influence, they're not on the radar screen of the general public. We're not talking celebrity endorsements here. We're talking about ordinary people who have established themselves as experts in their area of genius. They might be a doctor, a professor, a consultant or a chef. They also might be a 16-year-old tech head who knows how to talk tech to teens.
But if they have garnered the attention and trust of your potential customer, they can be magic for your brand.
There are several advantages of working with a micro influencer. Here are some worth taking into consideration as you explore whether this tactic is right for your business.
Access: Macro influencers like the Rock or Jill Michaels are out of the reach and budgets of most brands. But micro influencers are much more accessible and affordable. They're also more likely to be willing to bend their own rules or make concessions as part of a partnership.
The depth of connection: Unlike the audience of macro influencers, many followers of a micro influencer have actually met or communicated with them in some way. They're not as guarded or protected, which means their audience does not adore them from afar, they actually feel like they know them.
The real factor: When you see a macro influencer in action, it occurs to you that they're being compensated for whatever product or service they're sharing. But with a micro influencer, their endorsements are typically much more genuine. Because they typically have a day job along with their side hustle (the influencer partnerships), they often endorse products or services they like, whether they are being paid or not.
Of course, if they're being paid, they must disclose that. But they're also less likely to accept a contract for something they aren't genuinely proud to endorse. This is something their audience understands and counts on.
Engagement: When you have 3 or 4 four million followers, it's pretty difficult to create any sort of real engagement. Sure, someone might get retweeted once in a blue moon or have a comment liked, but there's not a lot of actual connection or conversation.
That's very different if the influencer has tens of thousands of followers in comparison. Their engagement level is much deeper and more frequent. Their audience feels seen and important. The engagement among the community is greater as well. The influencer acts like a host of sorts, helping people make connections through their common interest.
For many brands, partnering with a micro influencer who has the ear and the buying interest of their niche audience is a very worthwhile investment.
While there's no doubt you need to proceed with some caution, a good legal contract, and an understanding of the nuances of influencer marketing, the benefits can be quite impressive and cost-effective. Well worth the experiment!
This was originally published in the Des Moines Business Record, as one of Drew's weekly columns.