December 15, 2014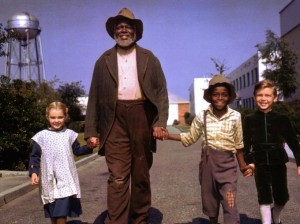 As you all know — I love all things Disney, so how could I pass on a guest post that used a Disney classic to talk about SEO!  Enjoy this post from Lucas Miller.
American actor James Baskett was most famous for his portrayal of Uncle Remus, an extremely deep voice, singing the song "Zip-A-Dee-Doo-Dah," and inventing the word "satisfactual."
However, what many fail to recognize is the prophetic, Nostradamus-like, subliminal message that Baskett originally fed American marketers at the time of his pioneering music video's release in 1946 — exactly 60 years before Twitter and her globally-recognized bluebird ever became an actual tool for internet fanatics.
[youtuber error='Not a YouTube, Vimeo or Google Video URL: https://www.youtube.com/watch?v=LcxYwwIL5zQ']
As an SEO professional, if you're not harnessing the power of the internet's favorite "bluebird" — Twitter — you're doing yourself and your client a disservice.
Says Todd Noall, President and Chief Strategy Officer of Fusion 360, an advertising agency in Utah, "How a brand performs in the digital world is based largely upon it's ability to be found by potential customers."
While that might seem like a bit of a "No sh*t, Sherlock" statement, continues Todd with the more difficult portion of the task, "… producing relevant content that customers not only want to interact with, but share with their friends."
Enter Twitter, stage left. One of the most basic rules of the SEO industry is that quality content will, in time, lead to conversation flow.
According to SearchEngineLand.com, "Posting quality content will also encourage people to follow you. Building high numbers of followers will enhance your authority in Google's eyes, meaning, any links you post will carry more weight."
Though popular quick fixes like Twitter competitions and mass follow and unfollow sessions might prove beneficial as a temporary remedy, Twitter as an SEO tool becomes helpful when worthwhile blog posts, widgets, discount vouchers and articles are being shared on a larger scale.
The simpleton of SEO thinks he or she knows the entirety of the industry by one term: "keyword." It should come as a surprise to no one that using appropriate keywords on a Twitter profile can help with Google ranking, but it's an error made all too often.
By simply adding important keywords to Twitter bios and tweets, Google — however you view this all-encompassing, amorphous entity — will peg your tweets as relevant to your brand's cause, thus improving page rank.
Lastly, and here's the fun part: produce tweets in a way that people will want to retweet them. Depending on the client that you represent, this may mean looking beyond the low-lying fruit of YouTube videos containing hysterical groin kicks. There's definitely more out there and digging into the deepest of the mind's creative catacombs will, more than likely, be necessary.
Keep in mind that each tweet only allows for 140 characters. When calling upon the powers of wit, humor, sex, human emotion or anything else that us homo sapiens find attractive, remember that you'll need to leave enough space for people to retweet your videos, links and comments, all while allowing enough room for them to add a thought or two.
Armed with the help of a certain "Mister bluebird" whispering into your ever-attentive ear the secrets of Twitter mastery, your clients, coworkers and boss will soon be joyfully singing, "Zip-A-Dee-Doo-Dah, Zip-A-Dee-A! My oh my, what a wonderful day!"
They'll look a little ridiculous, ya know, cause they're full-grown adults, but what can you expect with a booming Twitter page and Google rank? Answer: nothing less.
Lucas Miller is a young, up-and-coming Wizard of Public Relations. When not writing, running or studying, he's working tirelessly to perfect what he claims is the "World's Greatest Pompadour."
More