July 6, 2016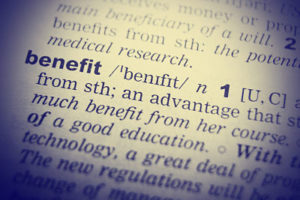 Let your benefits tell your story.  What does that mean?  Most prospects and customers have no idea what your company's mission statement or tagline is but they definitely know how they felt when they did business with you.  Those experiences spark more word of mouth marketing than anything else.
The interactions your employees have with your customers – be it in-person, on the phone or online, are often the foundation for how your business is perceived. Which makes those exceptional employees one of your most effective and valuable marketing assets.  Assets you do not want to lose.
Couple that truth with what sources like Bloomberg, The Economist and US News and World Report are saying about the oncoming high skilled labor shortage.  As businesses struggle to find new employees, it's only natural they're going to start trying to poach yours.
A strong benefits package actually packs a double wallop. There's no doubt it will help you retain your best employees and keep them on the front lines, delighting your customers, but what many business owners don't really understand is how much your benefits package can also build your brand internally.  By carefully creating benefits that speak to your core beliefs and values, you can weave those elements deep into your organization's culture.
Many companies struggle with how to infuse their brand into their employee base in a way that rings true and will reinforce those beliefs so they get translated accurately in all customer interactions.  When an organization walks its talk, the employees don't just hear the brand values, they see them in action.
Does your current benefits package actually reflect your company's values and brand promise?
One way to think about your benefits from a more holistic point of view is to look at them by category.
Benefits that make life easier and communicate family, trust and life/work balance: This would include perks like time off, child/elder care, flexible work hours, and space, concierge services, discounts on legal services, counseling, personal space at work (lactation room, exercise room, etc), summer hours and gift cards/certificates.
Benefits that focus on the employee's health and the importance of living a balanced and long life: There's lots of room to get creative here beyond health insurance.  Don't forget about benefits like gym discounts, long-term care insurance, wellness programs, a health risk appraisal, disability insurance, and access to health care options like eye, dental and mental health care coverage.
Benefits that help them grow professionally and speak to thought leadership, expertise and the value of helping others: Many employees know that the best way for them to earn more money is to be more valuable to the organization. Look for opportunities to give them career visibility, frequent feedback from managers, relationship networks, learning opportunities, trade or professional memberships, coaching or mentoring, education reimbursements and perhaps the best professional perk of all – an engaging culture.
Benefits that make your place the bomb and communicates fun, passion, serving the community and play: Not all benefits need to be traditional or ongoing.  A day at the ballpark, an internal paper airplane competition, a potluck just because, bringing in a chair massage service or working together for a charitable cause all create a workplace that's hard to duplicate.
Benefits that help an employee build their wealth and demonstrate your belief in being prepared, rewarding performance and legacies: Beyond paying a fair salary, there are plenty of things you can offer to help an employee stay in the green.  Think about offering tax preparation discounts, access to financial planning services, bonuses, or retirement savings accounts with employer matches.
Use your benefits package to not only keep your employees happy but to remind them every day what you and your company are all about.
More