July 6, 2015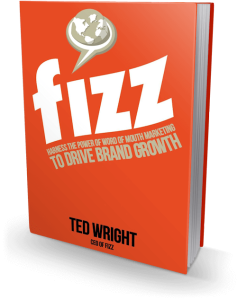 Ted Wright's new book Fizz (affiliate link) is a fantastic playbook for word of mouth that's fun to read and easy to connect with your business and how you could take the examples and modify them to work for you.
Wright works hard to demystify this area of organic marketing that seems to create so much confusion and missteps. you'll appreciate the examples of both what works and what happens when things go really wrong.
No matter what size is your business, you'll be able to implement the ideas on the book as it explores strategies, techniques, and approaches of building a company and a brand worth talking about.
One of the reasons why this playbook for word of mouth isn't just another fluff book is that Wright has actually had a hand in a lot of the examples and he offers up data like sales results, so you can see that it's not just about creating buzz but it's ultimately about creating sales.
This book is entertaining to read but at the end of the day, as Wright says at the opening of his playbook — it will actually help you "sell more stuff to more people more often for more money."
Hard to argue with that. Get your copy from Amazon here. (affiliate link)
More