July 19, 2014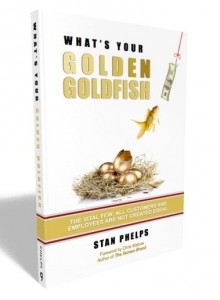 You've heard it before — the top 20% of your customers, your very best customers, account for 80% of your profitability and referrals.  We intellectually know that and yet our behavior sure doesn't show it.
We spend all kinds of dollars, time, energy and worry chasing after new customers and after someone starts to buy, the typical business sort of forgets all about them.  Much like people's dating patterns — there's a lot of wooing that goes on before the wedding but after the "I do's" get said, the florist goes broke.
Our poor best customers get the same treatment from us and that needs to stop.  We need to shift a portion of our marketing focus away from prospects and invest even more in our best customers — the ones who have already proven that they'll sing our praises, buy more and more and bring their friends along for the ride.
Fortunately, my friend Stan Phelps has written a book to help us all do just that.  This book, What's Your Golden Goldfish, is the third book in a trilogy of marketing books that are all built around over 2,200 crowdsourced examples of real life marketing smarts.
This particular book shares over 100 examples of what leading brands like Starbucks, Doubletree, Enterprise Rent-A-Car and Virgin Atlantic are doing differently to cater to their best customers and earn even more of their business and loyalty.
The book showcases nine different ways to let your best customers (and employees) know how much you value them. By doing those little extras, you will make your company even stronger.  You will differentiate yourself even more from your competitors, you'll keep both your best customers and employees longer so they contribute to your success and with every little extra, you will create more word of mouth buzz.
The entire series of books is all built around the idea of lagniappe which is a creole word for "a little something extra." In this edition — Stan helps his readers explore how organizations large and small can do a little something extra for their most loyal customers and employees.
You'll love the storytelling but make sure you have a pen and paper handy because this book is going to spark so many ideas that you'll never remember them all.  And as you implement them — your best customers will reward you with even more buzz, money and referrals.
Sounds like it is going to work out well for everyone, doesn't it?
If you're interested in Stan's entire series, here's how you can get them from Amazon.  If your an Amazon Unlimited customer, you can read the electronic version for free.  If you want the paperbacks, click on the links below:
Note:  If you click on one of the Amazon links, I get a few cents.
More