April 15, 2013
Marketing is getting the details right.  And its always the simple things that companies mess up.  Lt me give you an example.
As you may know, I travel quite a bit. I'm a big believer in maximizing my travel by being a loyal brand consumer…which gains me status, points and makes my travel life easier and more convenient. I try to only fly United and whenever I can, I stay in a Marriott hotel.
That affords me sort of an insider's view of both of these businesses but still interacting with them as one of their frequent consumers.
We've talked before about the value of seeing your business through your consumer's eyes and I had an ah ha moment while staying in Nashville this past week.
Because I stay in a lot of hotels, I notice card keys. I'm fascinating at how different hotels use those card keys as marketing tools. Some sell it as advertising space to the local pizza joint while others use it as a brand platform, putting a beautiful visual on the card. I equate the quality of the hotel to the beauty of the card. When I stay at a Comfort Inn or Fairfield Inn — I get pizza coupons. When I stay at a Westin — their cards are a work of art they're so beautiful.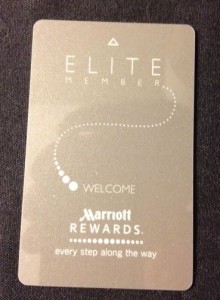 Whenever I check into a Marriott, I get a card that looks like this. The word elite indicates that I am a member of their Marriott Rewards program and have achieved their highest status level — platinum. As you can see, the card is pretty bland but it clearly is the platinum color…to signify my member rank.
Seems sort of dull, doesn't it? It hardly says high end hotel to me. But this hotel is Gaylord's Grand Opry — a very high end hotel. By accident, they made me a "regular" key card too.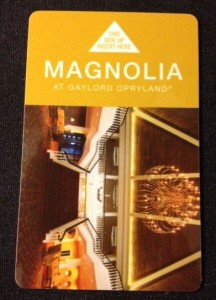 Look at how beautiful it is. (I was in their Magnolia wing) But Marriott assumes that the bland but "prestigious" card is what their most frequent customers would prefer.
I have often thought — "I wonder why Marriott has such ugly key cards compared to other higher end hotel chains" Turns out — they don't. They just give the ugly cards to their best customers.
Here's my ah ha moment — how often do we assume that we know what our best customers want? I'm sure Marriott thinks they're stroking my ego by giving me the special platinum key card. But I assumed everyone got the ugly cards and I didn't even notice that it was geared towards their elite members.
In my daughter's college town, there are no Marriott properties so I just stay at either a Comfort Inn or something like that. Even their keys are more interesting than Marriott's and every time I check in I think, "why can't Marriott do better keys than these guys?"
Now I know. They do. They just don't give them to their most frequent customers.
Is this a big deal? Absolutely not. But — that's what marketing is. It's the details. Most businesses get the big stuff right so how you differentiate yourself is in how well you handle the details. In my opinion, Marriott missed the boat on this one. Later this week I'll show you a hotel that didn't miss a single opportunity to build and highlight their brand.
More