February 2, 2012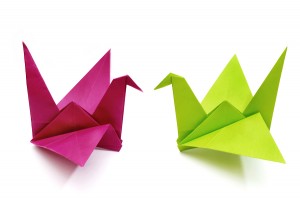 A couple times a month a cleaning company comes into our house and does a deep clean.
Every time I walk into the house after they've cleaned… the toilet paper rolls and tissues sticking out of the boxes are folded in some sort of origami art.  Sometimes, they leave a truffle on the kitchen counter.
I get what they're trying to do.  And it's a lovely little extra.  Unfortunately, I also find things like:
Every waste basket in the wrong spot (they've been cleaning the house for over a year)
The back door unlocked or a window left open
A few lights left on
Bathroom area rugs still hanging on the door (where they put it while they cleaned the floor)
Cleaning supplies left in random places because they forgot to pack them up
The net result?  I walk around the house, fixing what is wrong and being frustrated that these simple things can't be mastered.  It's not that the house isn't clean — it's that they don't care enough to do a final walk through and put the house back in order.
And when I see the origami art — I think "if they can take the time to fold my Kleenex, why can't they take the time to put the rug back on the floor?"  I suspect that's not the reaction they're going for.
Here's the lesson for all of us.  Everyone is looking to include some value add into their offerings.  But you can't do that if you're not already knocking it out of the park on your basic services/product.
You can put lipstick on a pig…but that doesn't change the fact that underneath is still a pig. Before you add any window dressing — do a tune up in these boring, mundane but necessary areas:
Billing/Invoicing
Production schedules/On time delivery
Customer service — access to real people
Operations — do you do what you say you'll do when and how you said you'd do it?
Ease of use — are you easy to do business with (functioning website, phone gets answered etc.)
There's nothing wrong with going above and beyond to make your customers feel special.  But that effort can backfire on you if you don't have your ducks in a row.  No one can enjoy the little perks if they're not getting what they paid for in the first place.
More