October 26, 2011
We tend to gravitate towards the shiny new object in the marketing world.  Today, we're a buzz about QR codes, social media and all things digital.  But as you are planning your marketing for 2012 (you're doing that, right?) don't dismiss traditional and local options.
According to a survey by the Pew Research Center's Project for Excellence in Journalism and Internet & American Life Project, Americans turn to a wide range of platforms to get local news and information. Most Americans, including more tech-savvy adults under age 40, also use a blend of both new and traditional sources to get their information.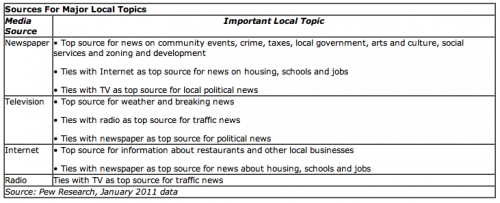 Where we go for specific local content
Here are some key takeaways from the report:
~ More Americans report watching local TV news than any other source, but they rely on the medium for just a few topics, mainly weather, breaking news, and to a lesser degree, traffic.
~ Younger adults, moreover, rely on local television less, a fact that suggests more vulnerability for the medium in the future.
~ Local newspapers (both the print and online versions, though primarily print) rank first or tie for first as the source people rely on most for 11 of the 16 different kinds of local information asked about, more topics than any other media source. But most of these topics, many of which relate to civic affairs such as government, taxes, etc., are ones followed by fewer Americans on a regular basis.
~ Local TV draws a mass audience largely around a few popular subjects, while local newspapers attract a smaller cohort of citizens but for a wider range of civically oriented subjects.
~ For adults generally, the internet is a main source for information about restaurants and other local businesses, and it is tied with newspapers as a top source for material about housing, jobs and schools, areas that place a special value on consumer input.
~ Among adults under age 40, the web ranks first or ties for first for 12 of the 16 local topics asked about.
~ For adults 40 or older, newspapers are the first preference for local news, TV and the Internet second and third.
~ This move by younger users to rely on the internet for local information puts considerable pressure on traditional news organizations. Even though most have moved aggressively online with ambitious websites and social media strategies, there is evidence in the data that people find specialty websites and search engines a preferable way find the local material they want.
~ Both citizen-based information sources and some very old forms of media remain vital as well. Print newsletters, online listservs, and old-fashioned word of mouth are important means by which people learn in particular about community events and local schools.
~ The majority of American adults use at least three different types of media every week to get news and information about their local community, and 15% rely on at least six different kinds of media weekly.
How does all of that mesh with your plans for 2012 and your understanding of how your audience uses media?
To read the full report, visit Pew's site.
More