October 26, 2016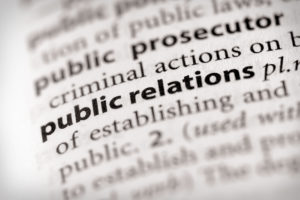 According to the Public Relations Society of America (PRSA) the definition of public relations is "Public relations is a strategic communication process that builds mutually beneficial relationships between organizations and their publics."
My translation is that public relations is any communication that benefits both the sender and the receiver. It delivers a value to everyone in the conversation. That sounds like a worthy target – after all, who wouldn't appreciate hearing from someone that delivers information, stories, or news that adds value to their day?
In today's vernacular public relations is earned media. In other words, you didn't buy the coverage. I'm not suggesting that PR is free – just that you don't buy placement like you might purchase ad space.
When most people hear the phrase public relations, they think media relations. Working with the traditional media to write a story about your organization is certainly one aspect of public relations but it's just part of the picture. I'm guessing that you're accidentally dabbling in public relations, you just don't realize it.
Many would argue that social media community building, helping a client avoid a crisis, or making an event something special are all PR tactics. See – you've already started down the PR path – why not try these less common but very effective tactics?
Reach out to bloggers: A kissing cousin to traditional media relations is connecting to bloggers who write for an audience that matters to your company. Bloggers are often more accessible than a traditional journalist and may be more open to helping you tell your story. A great tool for identifying bloggers who cover topics that relate to your organization is www.alltop.com.
Remember that top bloggers receive dozens of pitches every day so do your homework. Ideally, you'd spend some time getting to know their content before you need to make your pitch. Bloggers notice people who contribute to the conversations they're having on their site so jump into the comments section and add value.
If you do all of that, you'll know exactly which blogs are the best fit for what you're trying to do and they'll be glad to hear from you because you won't be wasting their time.
Own a branded study: Thought leadership is one of those buzzwords that has almost worn out its welcome. The only reason it hasn't is because the logic behind it makes so much sense. Again keeping in mind the PR credo – benefit your audience as well as yourself – the PR spin to thought leadership is that you share what you know. Identify something that your audience really needs to know and invest in getting the information for them. Then shout it from the rooftops and go out of your way to make sure that anyone who would gain from knowing what you learned, hears about it.
The key to this tactic is that you don't hold the information hostage. Be absolutely reckless in how you give it away. The beautiful thing is that pretty soon you'll be known as the company who went out of your way to help others and you made them smarter along the way. Every year, they'll actually look forward to hearing from you. Soon, you'll be branded as the organization that A) seeks the information every year and B) shares the information every year.
Who wouldn't want to do business with a company that offers that combination? The cherry on top is that you can probably garner the media's attention as well.
That's actually the secret sauce of PR. The more you help others, whether that's a reporter or a member of your target audience, the more attention you earn for your own organization as well.
More