June 5, 2013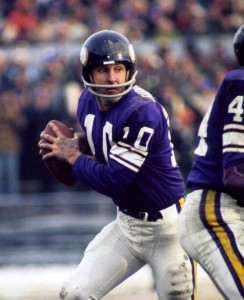 I grew up in Minnesota in the 70s and I love football which meant that back when I was a kid, my world revolved around the Minnesota Vikings and our incredible quarterback, Fran Tarkenton.
At the time of his retirement, Fran owned EVERY major quarterback record out there. Fran was known as The Scrambler because he was famous for being able to pivot and run around in the backfield, dodging defensive players and giving his teammates time to elude a defender or get open for a pass.
He was something to behold. Off the field, he was articulate, intelligent and called a "thinking quarterback."
I admired him on and off the field. He was a great role model. So no great surprise that when he retired, Fran successfully pursued other professional aspirations, including launching over 20 companies.
Being a scrambling quarterback was really the perfect training ground for Fran's entrepreneurial efforts. Whether you run a huge corporation or a one man hot dog cart — owning a business is about scrambling for opportunities, dodging disasters and looking down the field, hoping you see the perfect play that will advance your efforts.
Sadly, marketing is never the biggest guy chasing you down. Which is why so many business owners let their marketing slack off or erratically cycle in and out.
Marketing is creating the game plan before the game and then executing it.  Sure, you call an audible now and then and change things up.  But, you mostly follow the plan.  When you plan/execute your marketing well, you can scramble after opportunities.  But you don't wait until the need for marketing chases you.
Back in the 70s, during halftime and after every game (yes, even in the dead of MN winter), my neighborhood buddies and I would gather in our shared backyards to play a little football. So picture little Drew McLellan, out in the back yard, wearing his #10 Vikings jersey scrambling as I shouted that my teammate should go long. (Who doesn't love that play?).
Fast forward to today — and I'm excited to tell you that a much older Drew McLellan got to be a guest on Fran Tarkenton's radio show, aimed at entrepreneurs.  (listen to the segment by clicking here)
How cool is that? We talked about some of the challenges that business owners/leaders face when it comes to marketing, like:
Marketing is not part of their daily routine — so they cycle. Go like crazy when things are slow and then do nothing when they're flush. If the dry spell is too long, they go out of business.
Chasing after new business and ignoring existing customers (spend time/money in the exact wrong way — it should be spent on employees, current customers and then prospects not the other way around).
Marketing is too self centered/focused. Way too much me/we and not enough focus on the customers' needs.
Try to do too many different marketing tactics all at once and don't do any of them for a long enough period of time or with enough depth. Better to do fewer but do them better.
Business owners need an outside perspective. Why/how is their business different/unique? What is the value proposition that only they can offer? But they can't figure it out on their own. It's like trying to describe the outside of a bottle — if you are inside it. Can't unknown what you know.
Are you suffering from any of those mistakes?  Are you so busy scrambling that you're applying the same philosophy to your marketing?
Create a marketing game plan and follow it.  Leave the scrambling to other aspects of running your business.
Want to listen to Fran and I chatting about business?  You can listen to the live broadcast of the show this Saturday (June 8th) at 8-10 am CT or 3-5 pm CT on Sirius 104. Or you can listen on demand at siriousxm.com.  Get more details here on Fran's radio show page.  Once I get the mp3 of the show, I'll add it to this post as well.
More