January 26, 2016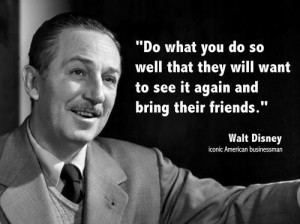 Every business needs to have an oops plan — a pre-determined course of action that allows you to make amends with your customers when something goes wrong.
This isn't something you can create on the fly — it needs to be something that is rehearsed and ready to take off the shelf at a moment's notice.  Because even the biggest organizations drop the ball. Even my beloved Disney.
I spent a long weekend at Disney World recently. Disney has a system called Fast Passes that allow guests to pre-register to ride some of their more popular rides.
At the pre-determined time, the guest shows up and goes into an expedited line that gets them on the ride in a fraction of the time that the normal line would take.
At Epcot, the ride in greatest demand right now is called Soarin' and it's not unusual for the regular line to have a wait time in excess of 90 minutes. So a Fast Pass to Soarin' is worth it's weight in gold since it reduces the wait time to about 15 minutes.
Being a regular Disney goer, I'd secured Fast Passes for the ride. We were in next group to ride when one of the cast members announced that everyone needed to leave the building immediately. When pressed, one of the cast members said there had been a fire alert triggered and although they were sure there was no fire, better safe than sorry.
As we dig into this case study, keep in mind:
They evacuated everyone in line, both Fast Pass holders and the people who had been patiently waiting for over an hour.
For most people, a trip to Disney World is a once in a lifetime event. They've saved for years and have planned out their days to maximize every moment.
Most Disney guests only budget one day for each of the major parks, which means if they don't get to see something that day – they won't see it at all.
The people holding the Fast Passes had already used them – they're only good once so the effort they went to secure them was wasted.
When someone asked if they could re-use their Fast Pass, another cast member told them to visit the information desk outside the attraction and they'd probably be able to help.
Within the three minutes of the evacuation announcement, cast members were lined up every 10 feet (we left the building through an emergency exit that took us into space that guests are not normally allowed) to guide the guests back to Epcot's public space. So clearly they'd rehearsed the evacuation process. Everything was orderly and safe.
But it had no Disney magic. Here's what they missed:
No one apologized for the disappointment or inconvenience: When you mess up, more than anything else your customer wants to know that you're genuinely sorry and understands their disappointment and frustration.
They didn't proactively tell everyone how to get a make good: Customers know that sometimes things don't go according to plan. They're willing to go with the flow, but they want to know how you're going to make it up to them and that you've thought about it before they ask.
The cast members were not well informed: The very people who had to deal with the customer knew the least. They didn't know how long the ride would be closed or how people could check to see if it was back up. Don't leave your team in the dark if they have to deliver some bad news to your customer. Make sure they have the answers.
If customer magic maker Disney can mess up, then we're at risk too.
Take some time to identify the danger zones where you could potentially disappoint a customer. Figure out where you're vulnerable and outline how you'd like to handle both fixing the problem and resolving your customer's frustrations that it happened.
Meet with your entire team to review your oops plan. Then, get it in writing and review it regularly with your team so that when a mistake happens – you all are ready.
More