February 13, 2013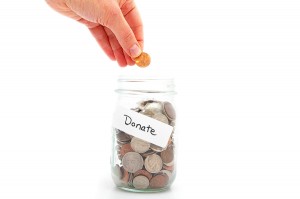 There's a Walgreens a few blocks from my house. It's a convenient place to get just about everything, so I'm there a few times a week.  It seems like every week they are collecting money for some charity.
They have the cause of the week prominently displayed.  I can buy a paper boot, heart, ribbon or balloon. And when I go to check out, there's a jug there — inviting cash donations.  When I run my credit card through — as I approve the charge, I am given the opportunity to donate.
So — I have ample opportunity to give.  But then, if all those efforts have failed to get me to donate — the clerk asks me — do you want to make a donation to XYZ?
Now I'm feeling cornered.  The people in the line are listening. The clerk is looking at me like I'm a cheap jerk and while I should not care about what these strangers think — I sort of do.
That's not a comfortable position and we shouldn't be putting that sort of squeeze on our prospects or clients.
There's a fine line in marketing and sales.  We've talked about it before.  You can lead a horse to water but you can't make it drink. If someone is not ready to part with their money, you can't force or humiliate them into doing so.  And if you keep pushing — all you do is alienate them.
Sometimes this over the line behavior is overt, like my Walgreens friends.  Other times, it's more subtle – like the passive aggressive voice mail messages or constant up selling or incessant follow up even when you've been told no.
Subtle or not — it's not effective. It makes us question your motives (I am pretty sure Walgreens has some sort of contest among their stores…to see who can raise the most money) and it feels a little desperate.
I know this flies into the face of the sales motto — always be closing.  But the hard sell doesn't work anymore (Did it ever?).
Instead — you have to find a way to know who your real audience is, capture their attention, market consistently and have something of value to share/teach often enough that you stay on their radar screen until they're ready to buy.
If it was easy — everyone could do it.  Do you have the stamina to sell?
Photo courtesy of www.BigStockPhotos.com
More