March 13, 2019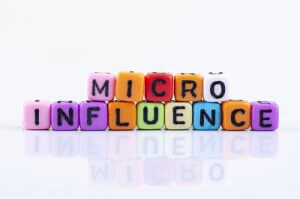 Previously, we talked about influencer marketing, which is a combination of old-school PR and word of mouth, with a technology twist. Today, anyone can create a position of authority, build a community around them and as a result, be an influencer.
There are the influencers we've always known, like athletes and actors, but more interesting and more potentially valuable to the average brand are the micro-influencers. These subject matter experts may have relatively small followings (could be as few as 500 or as many as half a million) compared to The Rock or Kourtney Kardashian. But to the people who follow them, their advice, point of view and recommendations carry significant weight.
Most of them are not "celebrities" in the traditional sense. They're a 14-year old boy who reviews technology for teens, they're a fitness coach who works with busy moms, or they're an accountant who helps other accountants build their practice. That's part of their charm – they feel accessible and ordinary enough that we can relate to them, their choices and their life.
The value of the influencers is not really their follower count. It's the depth of credibility and connection they have with their audience. It's very much like when your best friend recommends a movie or restaurant. Because it came from them (word of mouth) – you want to check it out. Today's channels (podcasting, blogs, Instagram, YouTube, etc.) create that sense of intimacy and confidence between themselves and their audience. So whether they have 500 followers or 500,000 – the key is that their followers actually pay attention and take action, based on their content.
If you're ready to dip your toe into this marketing tactic, there are some things you should keep in mind to maximize your investment and avoid trouble.
Follow the FTC rules: The FTC views having a celebrity or influencer endorse your product or service as an advertisement, even if no money exchanged hands. Whether you give them a free sample, or you pay them for using your product in a photo – the influencer must disclose that they are being compensated. It doesn't have to be a lengthy disclaimer. It can be as simple as a hashtag (like #sponsored), or it can be a sentence or two that explains the relationship.
The trick to this is – you're responsible even though you are not creating the content. You need to make sure the influencer is following the rules by monitoring what they are publishing. If they're producing a series of blog posts, the disclosure must be on every post, not just the first one.
Be creative with your content: While the FTC views influencer marketing as advertising, it really shouldn't be constructed to look like an ad. Work with the influencer to make the content interesting and useful, rather than use them posing with your product or endorsing your service. Have them tell a story and have your brand be a character in that story.
Reviews, demonstrations, an on-going series showing your product through some sort of evolution or a giveaway contest are all ways you can increase engagement with the influencer's audience and encourage them to go from reading about you to wanting to learn more or even sample what you sell.
We are just at the beginning of this trend, and there's nothing to suggest this is a short-term opportunity. No matter what you sell – this is a new twist on a tried and true tactic that is even better than it was initially. In the old days, a celebrity endorsed a product to everyone. Today, an influencer talks directly to the people you want to connect with and makes that introduction.
More