I don't know about you but Sunday nights are time for me to catch up. On my reading, on my work, on my relationships — all with an eye on Monday morning and knowing that the 180 mph pace is about to resume.
Sundays also seem to be my day for deep thoughts. I thought it might be fun to ease into the week together with a question that is sort of about branding and marketing but also has a personal element to it as well. A chance to get to know each other AND talk shop. Perfect for a Sunday night.
In the comments section of my recent post…This is your brain. This is your brain on brands there's an interesting discussion about the emotional connection we make to brands. There's no time when our emotions are more at the surface than when we're kids. So here's this week's question: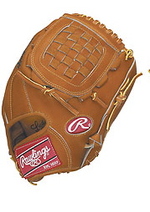 What is the brand that best epitomizes your youth?
Mine…without a doubt, Rawlings. They made the best ball gloves. I can remember getting my first one…and oiling it with such attentive rapture. As I got older and my hand got bigger, I had to make the bittersweet move to a new glove. But soon, I loved the new one as much as the old one.
The great thing about a baseball glove is that, much like jeans, the more you use it, the more perfect it becomes. I slept with my mitt under my bed for months, molding the pocket to just how I wanted it. But it didn't really achieve perfection for a few seasons. Then…it was (and still is) just right!