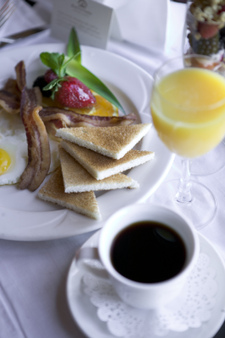 John Jantsch over at Duct Tape Marketing posted about one of my favorite marketing tactics — sampling. Many service delivery businesses think that they can't sample because they don't sell a "thing" that people can try. But they're wrong. With some creative thinking, every business can (and should) sample.
At MMG, we walk that talk. On the first Wednesday of every month, we host the Branding Breakfast. Come by our office at 7:30 am this Wednesday and we'll give you a hot breakfast, caffeine-charged coffee and some great branding conversation.
All for free.
Why? First and foremost — because we truly believe that branding is every business's best defense against becoming a commodity and having to complete on price alone. But our second reason — we know that as smart marketing people attend our breakfasts, they'll begin to see the power and value of working with us. That is the beauty of sampling.
To learn more about this week's Branding Breakfast, get a map to our place or RSVP, check us out here.
We'd love to have your voice in the conversation!