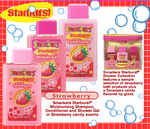 Brand extensions are nothing new. The reality is, we see more bad ones than good. Want proof?
There's a great survey that is done every year by BrandWeek and TippingSprung (NYC branding agency) that highlights the best and the worst. A hat tip to Nancy Friedman's post that reminded me of this annual brain food.
So what makes a smart brand extension?
Does it add value to the core brand?
Think of this a a math equation. Does A+B=C? If you take the core brand and add a new element, does it create something new that's of value. One of the survey's winners was the Red Cross who is now marketing emergency radios. You can see the logic and thought process that created the extension. Not only is the extension itself smart, but it reflects well and adds potency to the core brand.
The quizzical look factor.
You know that expression that a dog gets, when it cocks its head and looks confused? When you say, "hey, look Cheetos flavored lip balm" most people get that same expression. That's a big clue that the extension is a disconnect. If the two elements are miles apart, it's going to be tough to get the consumers to buy the connection.
Has anyone asked?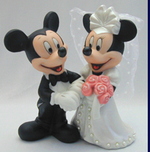 20 years ago, you couldn't even find a Mickey and Minnie in wedding garb to use as a wedding cake topper. Today, Disney has a wedding pavilion on the grounds of Disney World and the bride can arrive in Cinderella's coach, if she'd like. How did this come to be? Disney listened to its guests and their requests.
Just this week, in the Wall Street Journal, I read that Disney is now partnering with couture bridal designer Kirstie Kelly to create Disney princess inspired wedding gowns. Check out the Orlando Sentinel story here. (Download kellydisney.pdf )
How credible is it?

Here's one where I disagree with the survey results. They lauded the Snoop Dog extension into pet products, like dog beds. I'm sorry but just because the man's made up name includes the word dog does not make him a dog bed or doggie coat expert. Could he be a funny spokesperson for a dog bed manufacturer? You bet. But that's different than the man opening a line of dog sweaters.
Brand extensions are tricky business. Bottom line — how does it strengthen your core? How does it introduce you to new customers who would find benefit in both the parent and the extension? How does it add value to your current customers?