There are very few products that have emerged in my lifetime that have captured the marketplace as pervasively and quickly as the iPod.
It seems like just about everyone, from man to moose owns and loves their iPod.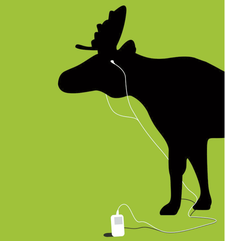 Owners spend hours and millions of dollars (via iTunes) to craft custom playlists that are the embodiment of a mood, a relationship, a favorite activity or a phase in their lives.
Which must make Apple giddy.
So here's the puzzler.
In Des Moines, a local and "in" bar called the The Lift has been hosting iPod Mondays for the past two years. Bar patrons bring their iPods and get to play DJ for 15 minutes, while they share one of their favorite playlists.
Let's look at the ingredients of this:
Everyone at the event either owns or is surrounded by the iPod and participating in an event that highlights how much fun the product is.
To create a playlist, most users are going to spend money at iTunes.
Over two years, people have bonded over a product they love — and bring new people every week.
The "in" bar is endorsing the product and producing advertising that touts it.
In a very "Microsoft-like action" Apple representatives contacted the bar and told them that their event and the associated website were a violation of Apple's trademark guidelines.
What is happening at Apple? Why aren't they offering to sponsor this event? Sending prizes and free download coupons? Why isn't Apple paying the Lift a brilliant idea fee and taking this to bars across the country?
What happened to the organization with the incredible sense of grassroots marketing and community building?
Read the Des Moines Register story — Download ipodmonday.pdf
Photo courtesy of Stumpy Moose.