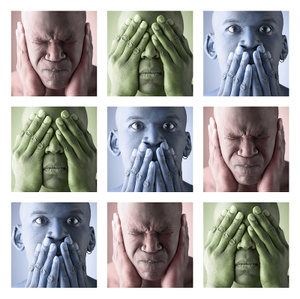 Remember the discussion about Kohl's right after the holidays. Paul (HeeHawMarketing) posted some photos about his experience in a local store. The place was a disaster.
I followed up with a post saying that Paul's experience is a symptom of bad or a complete lack of branding. When an organization doesn't have a clear direction — it generates some significant problems.
But here's one of the greatest risks of not having a rock-solid brand.
Finger pointing. It's not my fault. It's not my department. No one is accountable, because no one knows what they're accountable for. For a real-life example, let's go back to the Kohl's story.
Paul got a voice mail from Kohl's VP of Public Relations. Here's what she said:
"Please know that it is our top priority to provide you, and all of our customers, a quality shopping experience. I'm very sorry that you recently encountered an unacceptable store environment, and from your pictures, clearly not up to our standards. I have advised our senior level management, they've been made aware, and they're highly committed to addressing it. So, thanks again for letting me know. I do appreciate hearing from you and we do value your patronage."
In other words….nothing but smoke being blown up his skirt. So, then a Kohl's employee wanted to step into the discussion.
As you might expect — it's not their fault. Bad management, understaffed, under-appreciated employees, customers who are pigs, children who are unruly, etc. etc. And you know, he's probably exactly right.
But also, ultimately wrong.
So what's the solution? Someone has to care. Someone has to have a vision. Someone needs to set a course. That has to happen at a corporate level. And at the store level. And at the individual employee level. In other words, they all have to realize and believe that is is indeed their problem.
They need to discover their brand promise and begin to teach their employees how to bring it to life.
Until that happens, I suspect Kohl's will continue to breed a culture of "see no evil, hear no evil, speak no evil" not my problem, man.
Sad.