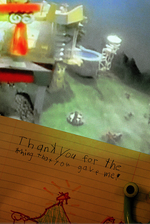 When was the last time you sat down and wrote a thank you note? To a customer? An employee? A vendor? (Thank you note…in the mail. The old-fashioned kind.)
It's time to get to it. You will be stunned at the impact.
Gratitude is one the most powerful marketing tactics known to man. You get more business when you demonstrate that you have the grace to appreciate what you've been given.
Now you know the secret. Use it wisely!
P.S. I will never hire someone who doesn't take the time and have the manners to send me a thank you note after the interview. If they don't send one when they're trying to get a job, they'll never send one to a client.
Flickr photo courtesy of pinkbelt.