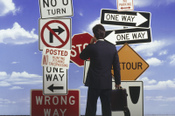 A few days before this blog received its 1000th comment, Gavin Heaton's Servant of Chaos celebrated the same milestone. Just like I invited David Reich to be my guest blogger to commemorate the occasion, Gavin asked the same of me.
Wow…what a daunting task. It's a very cool thing, don't get me wrong. But it's also nerve wracking. If you bomb on your own blog, that's one thing. But to bomb on someone else's? Yuck.
Check out my post on Gavin's site. If you don't read Gavin's blog, you need to start.
Check out David's post here on The Marketing Minute. And check out David's blog, My 2 Cents. It is always worth the read.