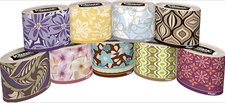 A recent article in the New York Times focused on how product packaging trends have changed over the last 10-20 years.  The trend, as late as the 90's was that companies would retain a packaging design for 7+ years.  Today, the trend is less than 2 years.  (To the left, Kleenex is now available in oval shaped boxes.)
The article lists many reasons why a company might shift packaging more often today.
Shorter attention spans of the buying population
The movement from container to a 3-D on-shelf ad for the product
Harder to expose audiences to mass media messaging, so have to grab them at the venue
Turning the mundane (tissue boxes, cleaning bottles) into decor
Trying to reduce package size/cost
Functionality (Coors label turns blue when it is just the right temperature)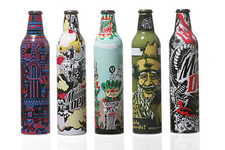 An extreme example — Mountain Dew is changing its packaging 12 times from May-October.  Wow.  (see examples to the right)
So what do you think?  Are they messing with their brand?  Is this sort of revolving door packaging a good thing?  Does it matter what the product is?
Related posts:
In the pink or just ick?
Have you committed a Cardinal Zin?