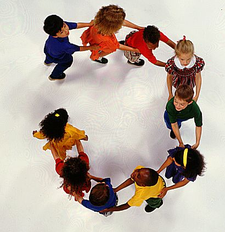 As we dance our way to my first blogiversary (Saturday the 15th) I want to spend this week honoring some people who have been in front of the line, leading the dance and keeping us on beat.  Because I sure didn't get here alone!
With their endorsement and encouragement, some of the  most supportive people in my conga line are the other blogs that invite me to be one of their authors.
It started with Small Business Branding.  To be invited to write about one of my core professional passions was such a thrill.  Then, I was blown away when I was adding to the All-Star line-up at Marketing Profs Daily Fix. And closer to home, I get to help Iowa Businesses wrap their arms around marketing at IowaBiz.com.  More recently, I was asked to be one of the inaugural bloggers in BrandingWire which of course, I quickly  jumped at.
It's one thing to start your own blog.  It was scary and fun but all along, I knew if I bombed…it was okay because it was just me.  But, it's something all together different and remarkable to be considered good enough to write for someone else's.  On all four blogs, I am surrounded by smart, talented pros who make me look good just by being in their midst.  It's heady stuff and I'm grateful to write along side them.
My way of thanking those trusting editors?  Just keep adding value to the conversation as best I can.
Who is in my conga line?
Mike Sansone
CK (Christina Kerley)
Gavin Heaton
The smiling faces
My other blog homes
YOU!