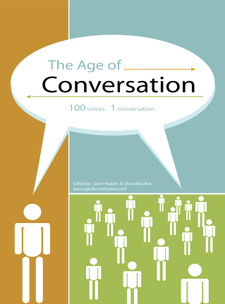 A little over 3 months ago, we launched Age of Conversation with our fingers crossed. We came screaming out of the gate.
103 authors, most of whom have never looked each other in the eyes. From 10 different countries. Working together for a common vision — to publish a book they could be proud of and raise money for the world's children.
So, how are we doing so far?
In the 90+ days since our launch, together we have raised $10,380.81! (That's 1,351 books)
That's the good news. The bad news is that 98% of those sales took place in the first 60 days.
It's time to prove that we know how to market. The holidays are coming and Age of Conversation would make a great gift for clients, business partners, family or friends.
We've got a couple ideas up our sleeve but would love to get some from you too. How can we get AoC back on the radar screen and on everyone's wish list this holiday season?
Could we raise another $10,000 in the next 90 days?