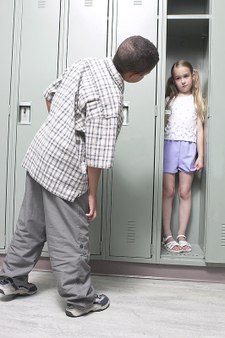 Over the past year, the 7 (or 5 or 8) things about you meme has made its rounds. I first revealed five fascinating (my rating, not necessarily yours!) things about me about a year ago. Then, about a month later, I got tagged again by Chris Brown and this time offered up what my five favorite brands told you about me.
Then, in July, David Reich got me — only this time it was 8 things. So I sort of cheated and re-used the five I had originally posted and added three new ones.
Now, my friend and fellow Iowa blogger Angela Maiers has caught me once again. Angela blogs about education and was one of the blogs I spotlighted in my November blogtipping post.
So, I will beg your indulgence (I'm pretty sure you know all you want to about me!) and offer up some new truths about Drew — this time, ala my experiences during my school years to pay tribute to the work Angela does.
My speaking career began early: I gave the valedictorian speech at my high school. I had to get my speech approved by the English department head, so I was ready far in advance. The night before graduation, I woke up in the middle of the night and decided I wasn't happy with the speech– so I completely re-wrote it and decided it was better to apologize than ask permission. So my speech was a surprise to everyone. My mention of TPing (not in the original) got a standing ovation.
I am gifted at TPing: Through much of my high school career, I was lauded for my TPing ability. The height my tosses could achieve, the obscure places I could get TP and my ability to allude residents, dogs and the police.
I would make myself sick about grades: I was much more of a perfectionist when I was a kid. And I set some unrealistic goals for myself. Straight A's and nothing less. This wasn't my parents' pressure — this was mine. I was making myself so sick they thought I had an ulcer and we had to do all these medical tests. That finally got my attention and I realized I had better let up a little — and did so.
I didn't start off so well: My poor mom had to hang out at the school for the first week of kindergarten because otherwise, I would not stay. I'm proud to say…she did not have to go to college with me!

My first major was psychology: I fully intended to be a psychologist when I first went to school. Some early experiences my freshman and sophomore year made me decide that wasn't the right path and voila, a marketing and branding guy was born!
I broke my finger on the playground: We were playing football at recess and during a tackle, my finger got caught in a guy's shirt and broke. We didn't get it looked at soon enough…so it is still crooked today. (And aches when the weather is going to change!)
I am utterly incorrigible. I had a 7th grade teacher say this to me. I'm not sure how she meant it, but I took it as quite the compliment and still do, to this day.
There you have it, discerning readers — a little peek into the twisted beginnings of yours truly! 🙂
Since its the holidays, I'm not going to tag anyone specifically, but if you'd like to play along…here are the rules.
Link to the person that tagged you and post the rules on your blog.
Share 7 random and or weird things about yourself.
Tag 7 random people at the end of your post and include links to their blogs.