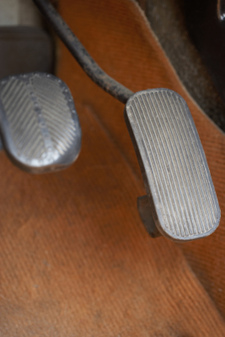 There are good surprises and then there are bad surprises.
On Saturday evening, my daughter and I were driving towards home when all of a sudden, my foot could not find the gas pedal. It was gone. I stomped and wiggled my foot all over the floor of my truck….but no gas pedal.
We coasted over into a left turn lane, I threw the truck in park and hopped out. My gas pedal was still there…but just sitting limply on the floor.
We weren't going anywhere. Bad surprise.
Long story short…tow truck. Repair place. Rental car. Snapped cable from pedal to engine. Empty wallet.
When I picked up the truck on Monday night, I noticed that something was different. The seat belt on my side had developed a snag which turned into a vertical tear, along the seat belt. Which meant that it caught on the seat belt latch, every time I buckled up. It was annoying.
But, while the repair place had my truck and was replacing the gas pedal cable, they had "re-strung" my seat belt, so the tear didn't catch any more. They didn't charge me for it. They didn't even mention they'd done it.
Good surprise.
Suddenly, I felt a whole lot better about the empty wallet. They'd done something special for me. Something they didn't have to do. That's the beauty of surprises…they make us feel noticed and valued.
How often do you do that for your clients? Do a little something extra? Put a note in a bill saying that you aren't charging them for something, send dessert over to their table, let the ride run a wee bit longer?
Toby Bloomberg e-mailed me a couple days ago and asked me for a tip on building great client relationships. I said…"surprise them…give them a little more than what they expected or paid for."
Good surprises, like my seat belt are great fodder for passionate, genuine word of mouth. Give your clients a reason to tell stories about you.
By the way….Toby asked many a marketer this question. She's compiled all the answers for us and there's plenty to think about. Check it out.
Related posts:
Are you boring your customers?
Surprise! (Marketing lesson from Walt)
Turn things upside down!