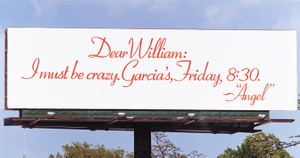 Many of you, in the comments section and via e-mail, have been asking about the back story of this campaign. Quite honestly — I didn't know it. I had stumbled upon the creative years ago and used it as an example of "go ahead, break the rules" kind of thinking.
But, all of that has changed.
A few weeks ago, I commented that one of my favorite things about blogging is that it allows me to meet some amazing people. More proof coming up.
I published the post about the Garcia's outdoor campaign in the morning and by mid-afternoon, I had an e-mail from Rich Spears who was on the original account team (he was the media director) for this campaign. As the agency's current Chief Marketing Officer, he generously gave me the entire back story and permission to share it with you.
So, here's the scoop.
It's 1990 and Garcia's and the other area restaurants are in a panic. A big, fancy, new waterfront club was opening that summer and they were expecting it was going to mean they'd all (the existing restaurants) take a big hit.
So Garcia's came to Crowley Webb for some counsel and a solution. Oh yeah, and they only had $20,000 to spend — creative concepting, design, production costs, media — the whole thing.
The William/Angel campaign was conceived and launched.
The plan was for everyone to believe that there truly was a William, Angel, Candi and Frankie. The media were sworn to secrecy. Reporters tried to get at the truth as the campaign was unfolding but no one cracked.
Beyond the billboard campaign, the agency also:
Had a small radio buy on one station. Two spots per week. Someone called in, as William, and did a live "commercial" that sounded like he was this desperate guy, trying to find his Angel.
Ran ads in the classified personal ads in the Buffalo News
Had a limo driver handing out "have you seen my Angel" fliers throughout downtown, near the Garcia's location
Hired a plane to fly over a Buffalo Bison's game (baseball), towing a banner with a message from William
All of this culminated right after billboard #8, where Angel agrees to meet William at Garcia's. To the delight of the packed house — A beautiful woman in red appeared, fended off the advances of just about every guy in town, waiting for William.
Just then, a limo pulled up (remember the guy passing out fliers?) and William stepped out from the limo and walked inside, scanning the crowd for his Angel. Their eyes met, they talked, shared some champagne and then danced to "Lady in Red" before William whisked her away in his limo.
Rich said the crowd's reaction was priceless. And more than one boyfriend was chided for not being as romantic as William!
The following Monday, the final board was posted, with William professing that he was in heaven over the meeting.
The net result beyond the media exposure and buzz around town? When the new waterfront club opened, every restaurant in town took a double digit drop in revenue. Garcia's business went up. They maintained that competitive advantage for some time and never felt the impact of the waterfront club.
So they exceeded their goals and their revenues grew. Not to mention all the added value the campaign delivered.
Flash forward to today, some 18 years later — that entire area and all the restaurants in it, including the waterfront club are now gone, having given way to growth and re-purposing of that area.
I'd call that a success story and a half.
An interesting side note. When the campaign won best of show at the National Obie awards, it was the first winner ever to receive a perfect score from every judge.
A huge hat tip to the innovative team at Crowley Webb, the courageous owners of Garcia's and the very fortunate citizens of Buffalo who had the fun of watching this all unfold.